On a daily surfing on Reddit yesterday, a posted question about how to uninstall Valorant just came into my eyes. After going into deeper, I just found that many people have the same problem to remove this program. So, are you also tired of removing Valorant but always get an unsuccessful result? You need to learn more about this app uninstallation.

Valorant overview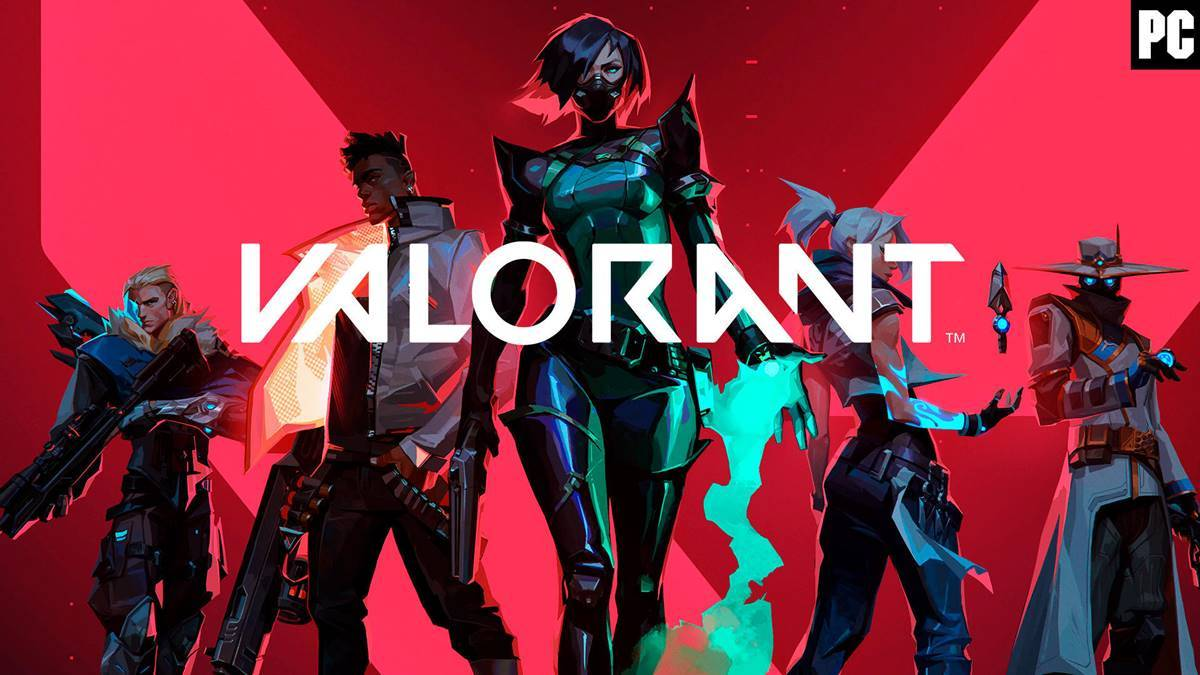 Valorant is a multiplayer tactical first-person hero shooter game from the League of Legends developer, Riot Games. It can be played for free and just finish the beta versions of 5v5 tactical shooter and now available for download online.
Problems of removing Valorant
As Valorant is a popular gaming application for Windows system, many users get some troubles when they need to uninstall Valorant temporarily for some reasons. And I just found many people post such questions on Reddit :
How to uninstall Valorant
Help I can't Uninstall Valorant
Riot Vanguard won't uninstall
How do I uninstall the Software : VALORANT
After reading more about their posts, most of them get the following problems when remove the program:
The app itself is not available on the Windows removing panel: Apps and Features
Valorant is still leaving on the computer after perform the removal
There is no way working for removing the program from PC
The program cannot be reinstalled and the computer always prompts that it has been existed on the PC
How can uninstall Valorant properly and successfully
1. Delete Valorant and its bundles via Windows removal feature
Right-click on the Windows button on the left side of Windows task-bar
Click on the firstly item "Apps and Features"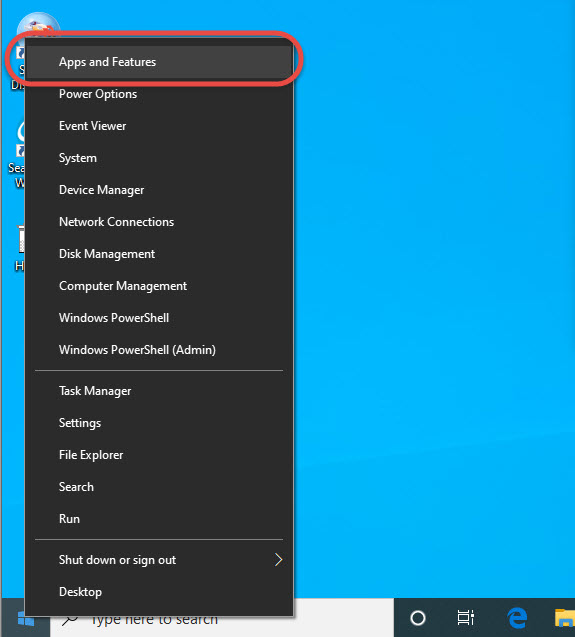 Click on 'Valorant', select Uninstall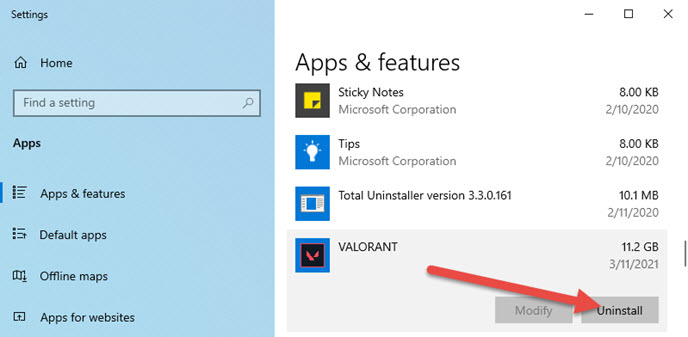 Follow the instructions to finish the program's standard removal step by step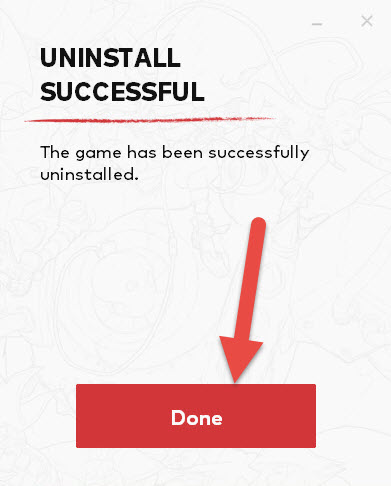 When finish, repeat the removal steps to uninstall other apps related to Valorant
Next, close all opening windows and apps, and reboot the computer
Type "regedit" in the search box, and open the Registry Editor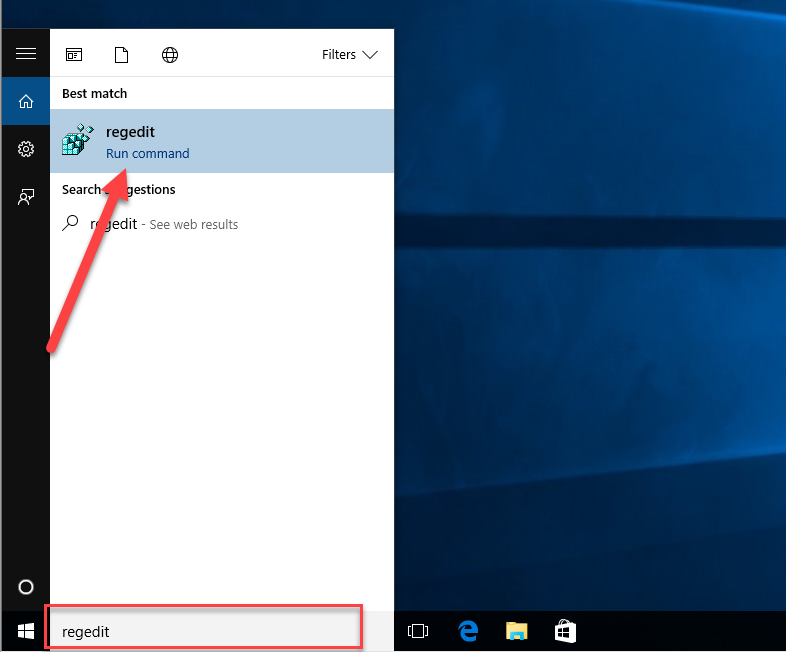 Expand the registry groups inside, and delete the registry key/entry which are belonging to the Valorant like Riot Vanguard
Check the original installation folder of Valorant, and clean it if it still can be found on the PC

If you encounter the program cannot be uninstalled in this way, especially when you receive a message which states that a file of the program is missing so that it cannot be removed from the computer. You can try to update it or install a brand-new one to cover the current program. After that, try to uninstall Valorant again and it will not appear the error notification again.
2.Uninstall Valorant with professional app removal tool
To get a faster and easier removal for the app, you can also consider to take an advanced uninstaller to get rid of the application. And Total Uninstaller is smart tool that can scan all associated files of the program on PC, and then provide a strong removal for all files.
Launch a registered Total Uninstaller on PC
Find out the Valorant program, and highlight it
Click on Run Analysis button to scan out all files of the application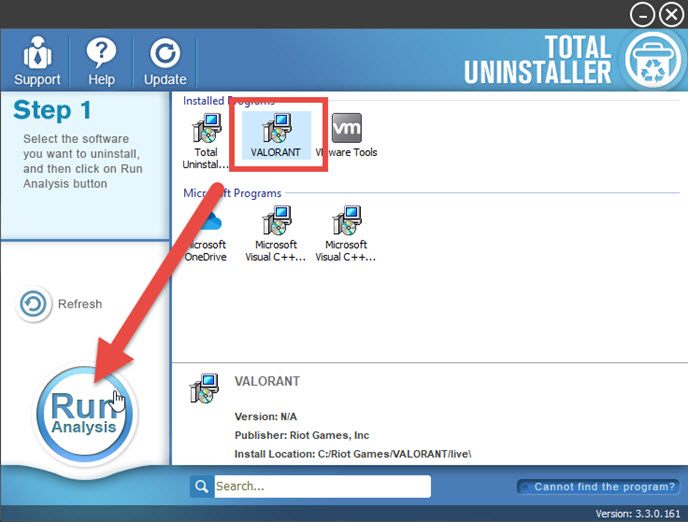 Click Complete Uninstall, and Yes to start the removing process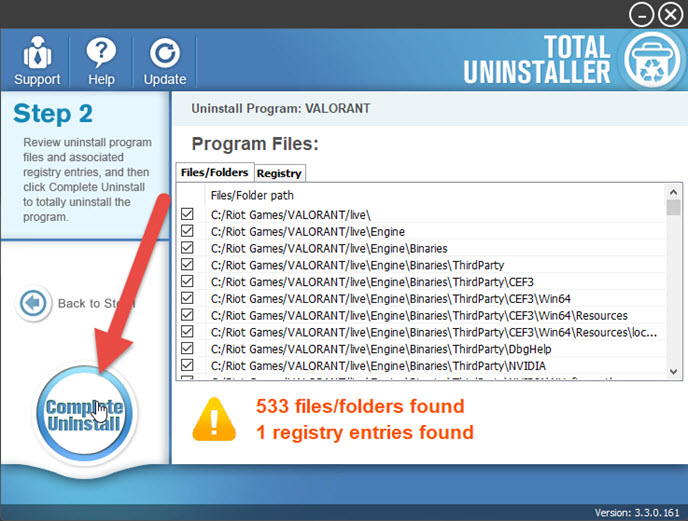 Follow the wizard to finish the standard removal, and then click on Scan Leftovers button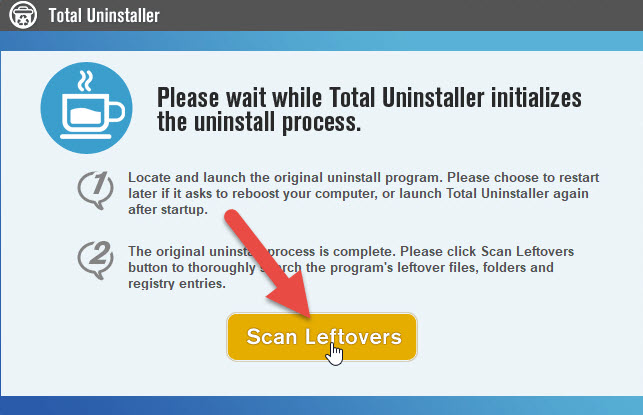 Click Delete Leftovers to clean out all remnants on the PC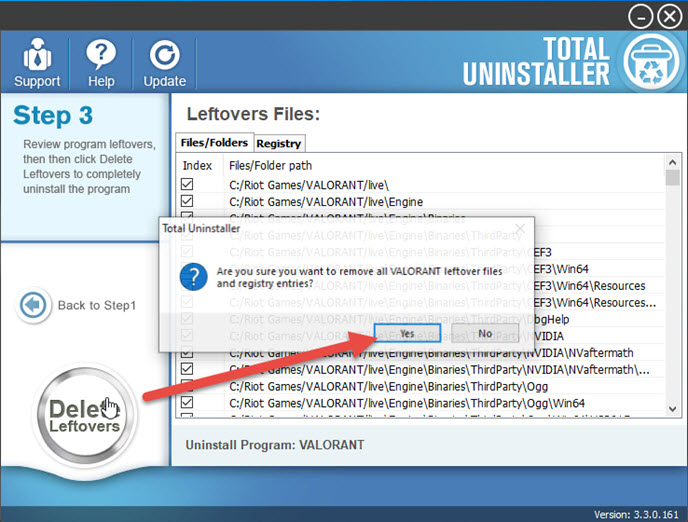 Close the uninstaller, and restart the Windows system to refresh the computer