Are you an Adobe Dimension user or someone who wants to know how to uninstall Adobe Dimension from Windows computer completely in order to install an update successfully? Can't install Adobe Dimension because a prior version has been on your computer? Would you like to become confident in uninstalling a program from Windows? Do you want to gain insight into the methods to uninstall a program completely? No uninstall experience? No problem.
This guide will tell you how you can uninstall Adobe Dimension or any other unwanted programs from Windows based PCs easily and completely. This easy-to-use guidance can help you have a good understanding of everything needed in succeeding an uninstall. With this guide, you will be able to uninstall Adobe Dimension and any other unneeded programs, as well as all leftover files, folders, and registry entries. Thus, continue reading to figure out how to uninstall Adobe Dimension completely, how to fix issue that: can't install Adobe Dimension, how to remove all leftovers like a pro, and so on.
Adobe Dimension Overview
Adobe Dimension is for the people that want to create creative and cool 3D designs and photorealistic mockups in an easy and simple way. The Dimension app can cater to all you need of creating creative 3D work. Whether you want to create brand visualizations, cool illustrations, product mockups, or other creative 3D designs, Adobe Dimension allows you to get that done faster and with the highest quality. Thus, Adobe Dimension is a must-have yet productive tool if you have to deal with 3D projects on a daily basis.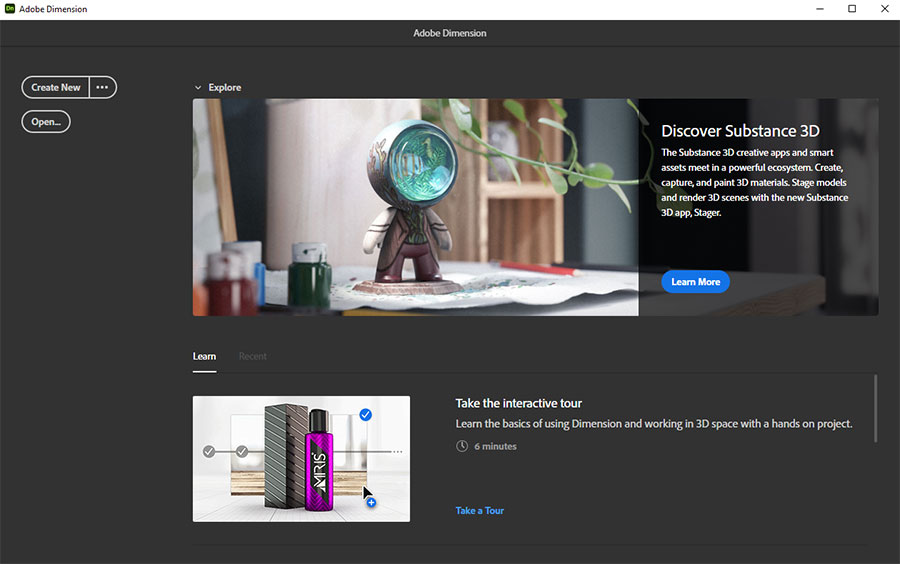 How to Uninstall Adobe Dimension from Windows Completely?
We will begin by exploring the basics of uninstalling Adobe Dimension step by step. You will acquire all the basic steps you need to know to uninstall a program on your own. You will also know how to find delete Adobe Dimension leftovers in manual way. After that we will get to know about using Total Uninstaller, how to uninstall any unwanted programs automatically, how to delete all leftovers with just a few clicks, and how to remove any unneeded programs like a pro.
Solution to Uninstall Adobe Dimension Completely & Easily
This part will walk you through the step-by-step uninstall process by using the professional Total Uninstaller, get how to uninstall Adobe Dimension faster and easier. Get how to uninstall any unwanted programs through just a few clicks, you won't have to spend a lot of time and effort.
Step 1: Quit Adobe Dimension from Task Manager at first. Download Total Uninstaller and install it on your PC. To download Total Uninstaller is easy to get started, you can click the download button listed at the beginning or end of this post.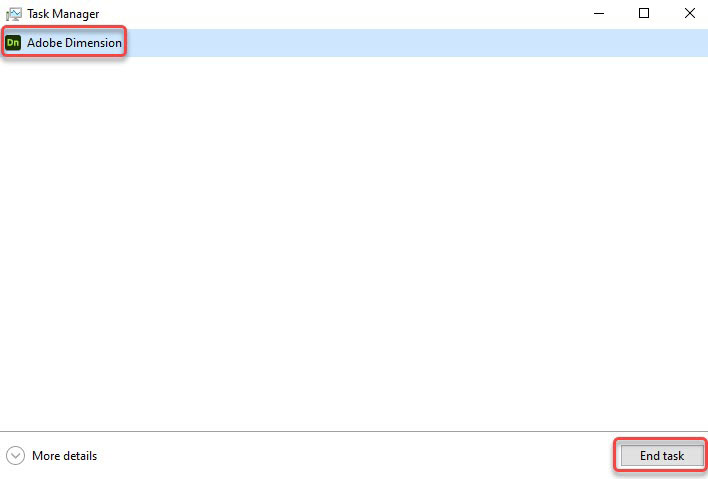 Step 2: Launch Total Uninstaller > Select the Adobe Dimension app that you are going to uninstall > Click Run Analysis.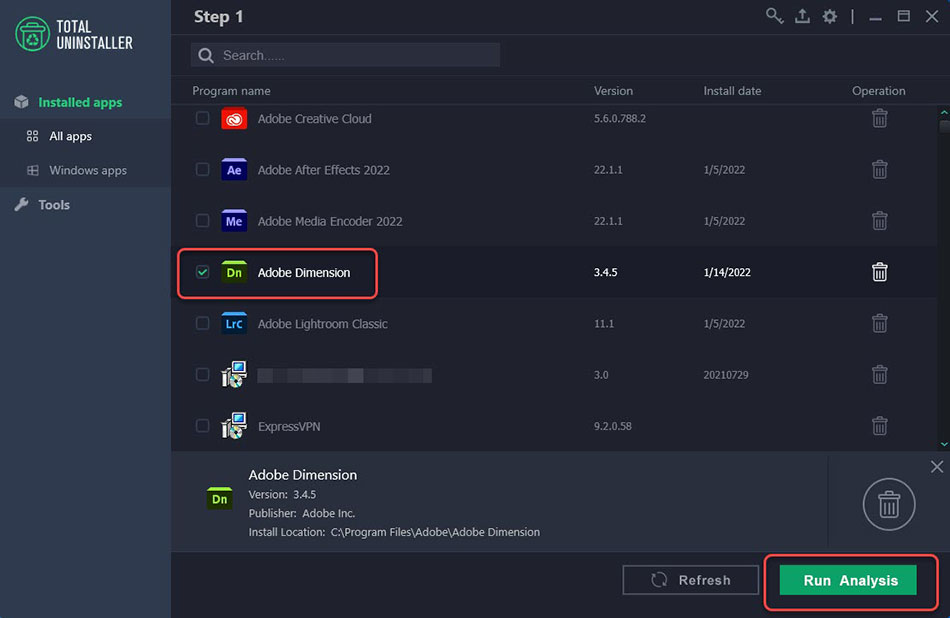 Warm tips: Total Uninstaller offers Search function so that every user can search an app to locate it easily. So you can find Adobe Dimension by entering the app's name in Search box and pressing Enter key.
Step 3: Next, please wait while the Adobe Dimension uninstall process to be completed. The Adobe Dimension uninstall wizard pops up, click Remove to continue this uninstalling.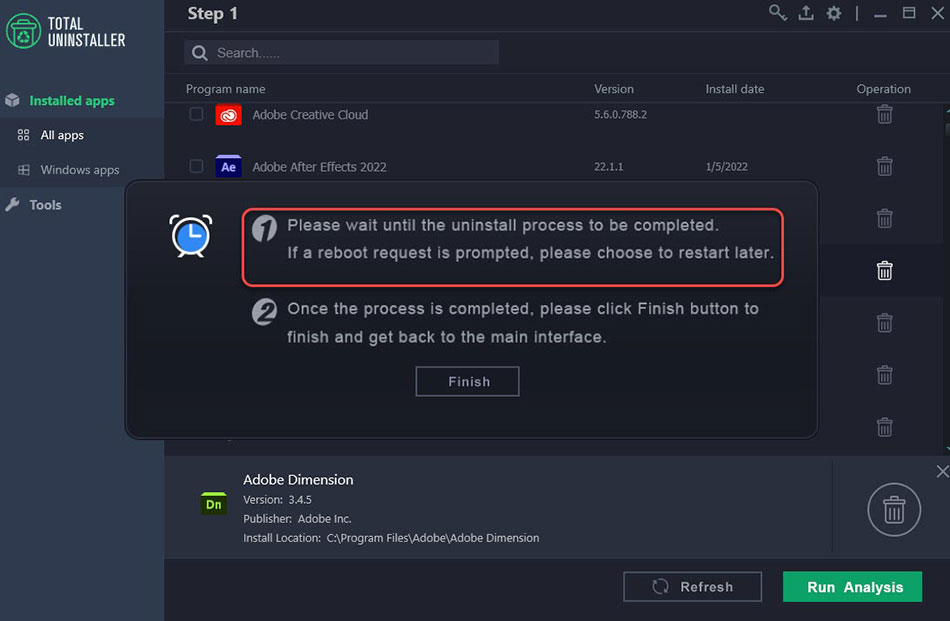 Step 4: The Adobe Dimension uninstall was completed successfully. Click Finish and check. At last, Restart your computer to apply this change.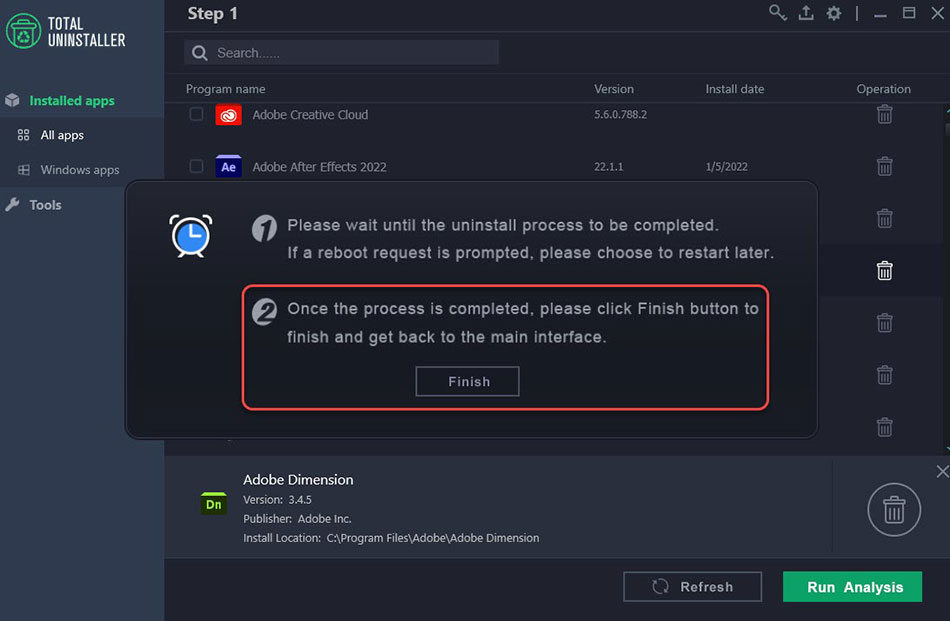 Can't Install Adobe Dimension?
Can't install Adobe Dimension due to a prior version is also existing? If you ever saw such error issue on your computer while trying to install the latest update of Adobe Dimension, there is a possible reason that there are some leftovers of the prior version still in system. To troubleshoot such issue, we recommend you get rid of all leftovers of the previous installation of Adobe Dimension. If you have tried to uninstall Adobe Dimension but some leftovers are still in system and you couldn't delete them, then we can use Total Uninstaller to solve this. This part will walk you through everything you need to know about using the provided Total Uninstaller tool to get rid of leftovers effortlessly. Get how Total Uninstaller search and delete Adobe Dimension leftovers completely.
Step 1: Launch Total Uninstaller > Click Tools.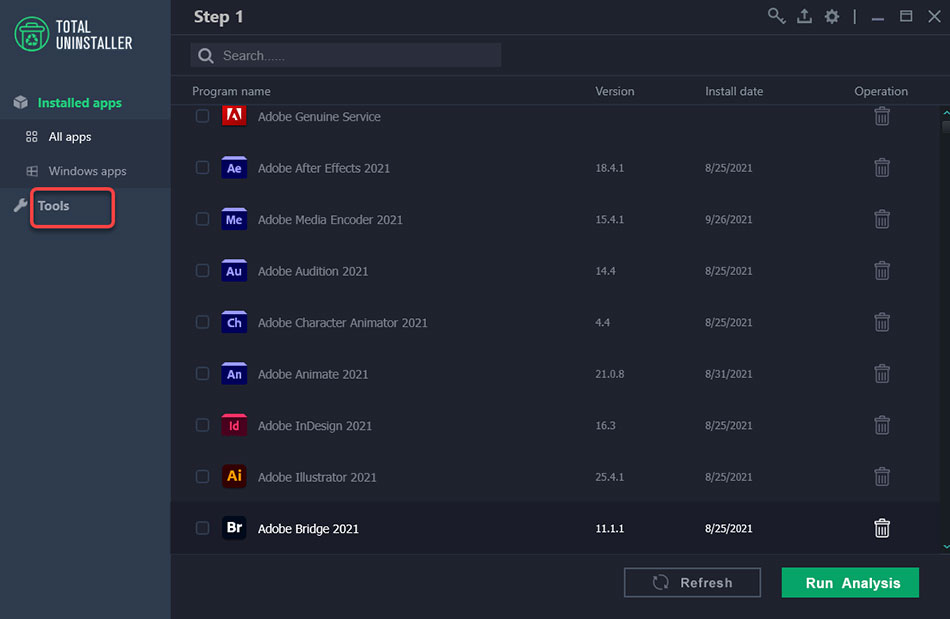 Step 2: Click Registry Manager > Click Open Registry Manager.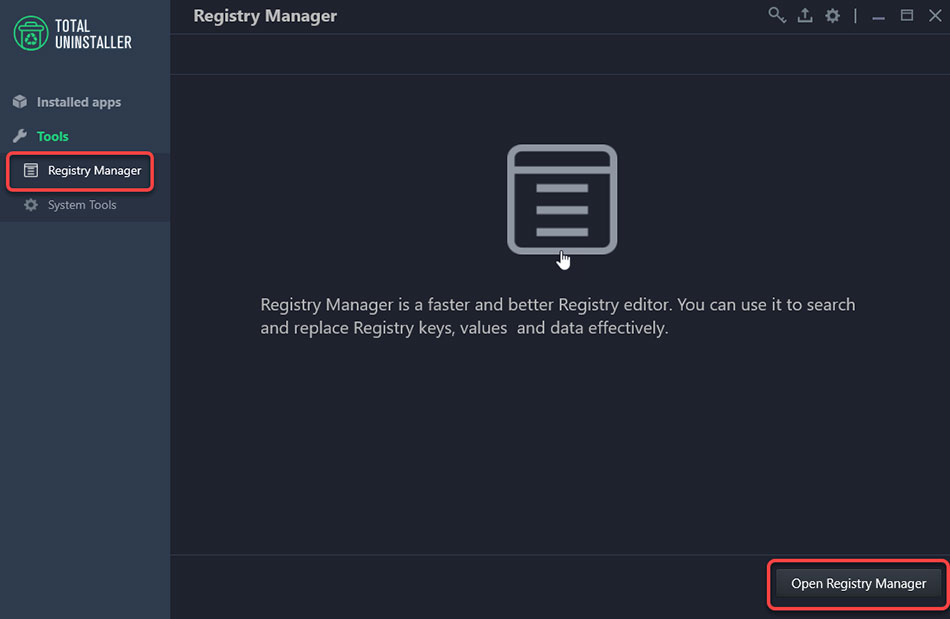 Step 3: On the top-left corner, click Search > Click Find... or press Ctrl+F key to get Find box.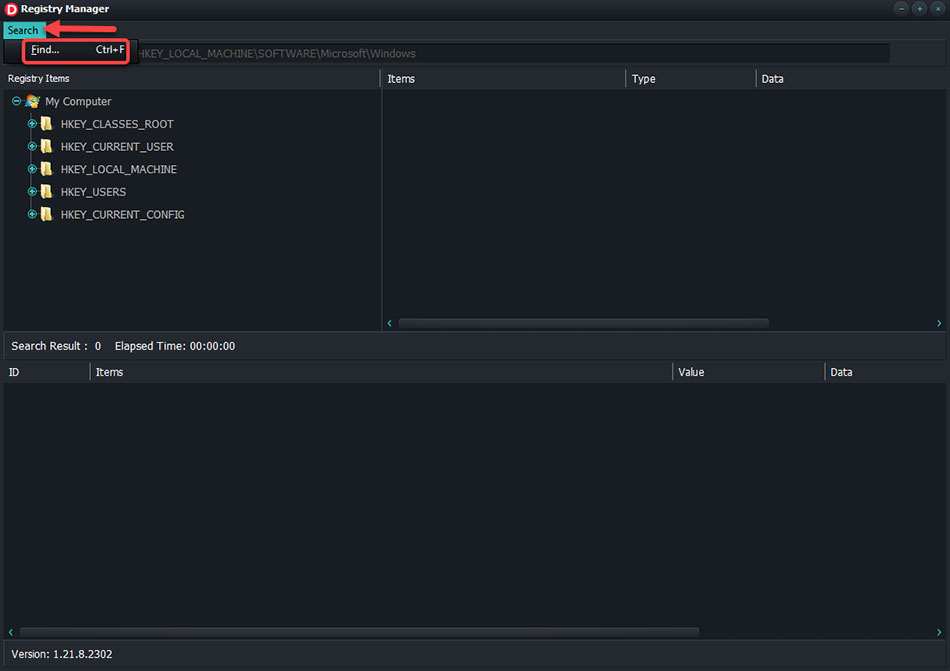 Step 4: Enter the app's name 'Adobe Dimension' in Find box > Click Find.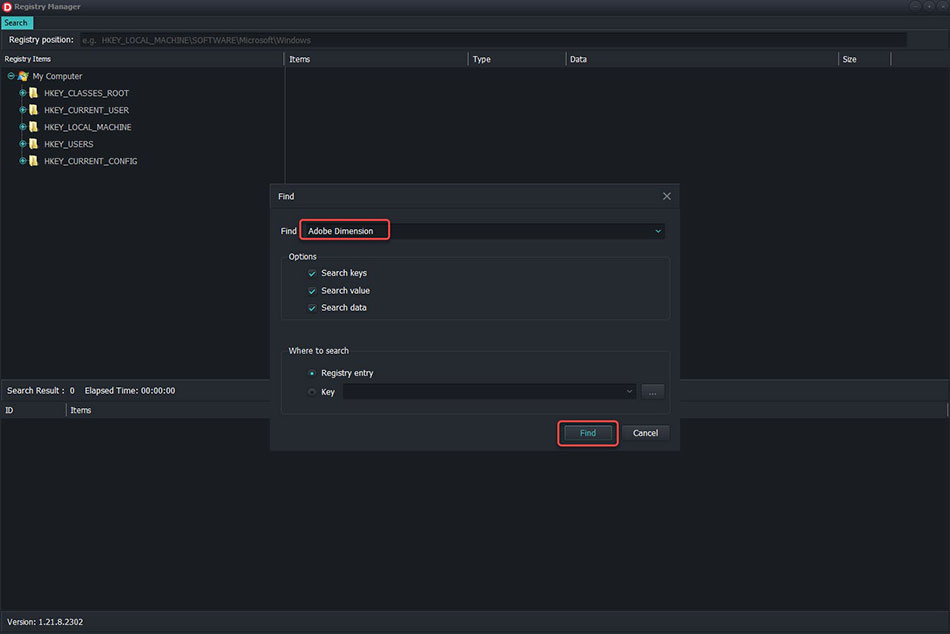 Step 5: Click any empty area in the field of Search Result > Press Ctrl+A key to select all registry entries > Right-click on the selected search result > Select Remove from Registry option. Till now, you have removed all files and entries associated with the Adobe Dimension app from your Windows PC. Finally, don't miss out to Restart your computer to make change.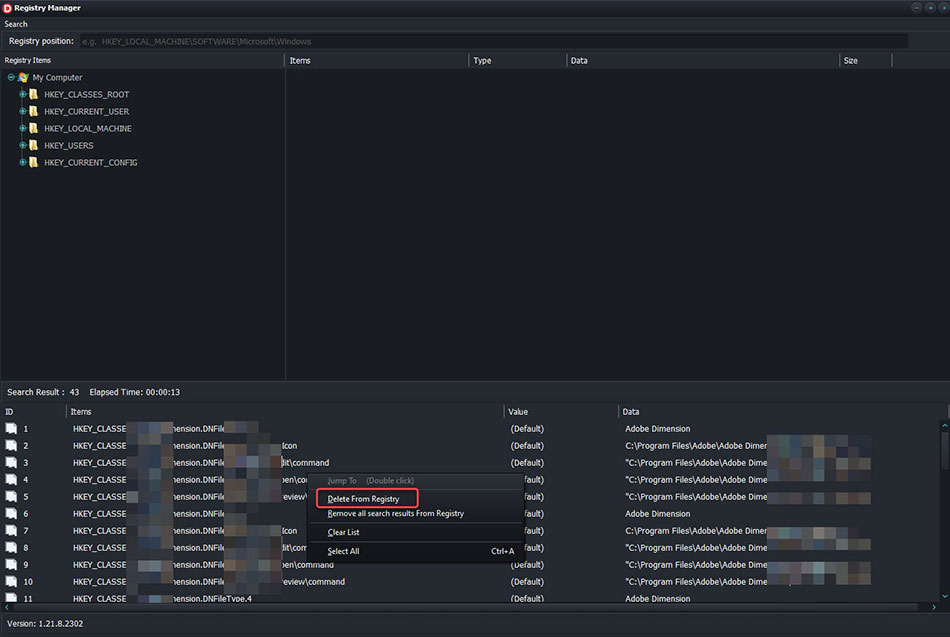 Refer to a simple video guide regarding how to uninstall Adobe Dimension using Total Uninstaller.
Finally
By the end of this guidance, you may have known how to uninstall Adobe Dimension completely and solve such issues can't install Adobe Dimension on Windows. If you want to use the provided Total Uninstaller, simply click the following download button to get it immediately.