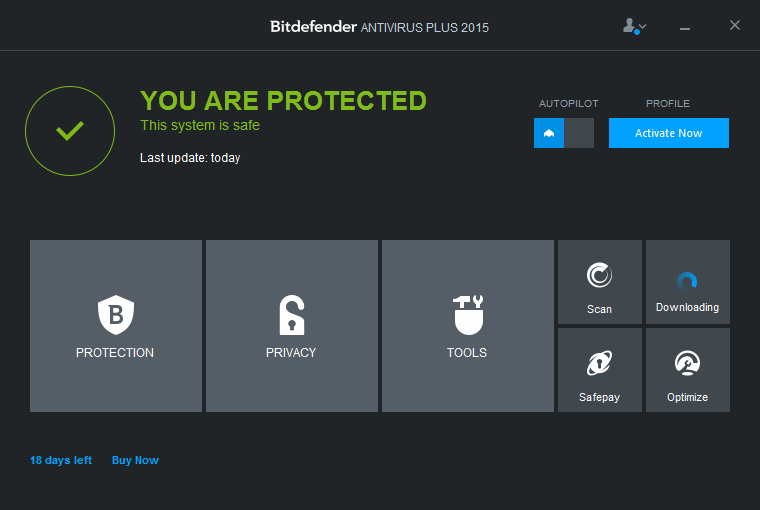 Cannot uninstall Bitdefender Antivirus Plus 2015 for unknown reason? Have no idea how to clear up its leftovers from system? Check out this guide to help work it out.
As a famous antivirus software, Bitdefender Antivirus Plus claims to provide best protection against e-threats, superior performance with no slowdown, comprehensive technical support and so on. Yet, users who has installed this program could decide to uninstall it for various reasons (for instance, compatibility issue). Anyhow, since you come to this page, presumably here's the question you are concerned of: how can I perfectly uninstall Bitdefender Antivirus Plus 2015 from Windows, with no trace left?

As we have tested, Bitdefender Antivirus Plus 2015, once installed, runs automatically every time you boot up the computer. When you try to shut it down, you will find that there is not Exit option from its right-click menu, and if you try to quit the processes pertaining to this software via Task Manager, the request will be denied too.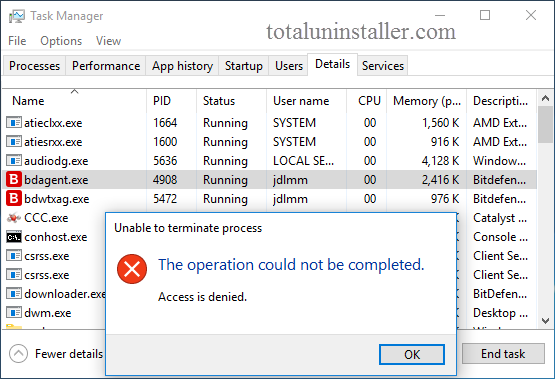 Why so? Well, many antivirus software do so to protect themselves from being turned off by malware or virus. For that kind of antivirus, running the built-in uninstaller will automatically deactivate its executive program. So don't be anxious about that, and you can go ahead the uninstall by following the detailed instructions below.
Option 1: Uninstall Bitdefender Antivirus Plus 2015 from Start Menu
It would be quite time-saving and less laborious to uninstall Bitdefender Antivirus Plus 2015 by using an all-in-one uninstaller. But if you prefer to perform the uninstall manually, just head to the Start menu > Control Panel/Settings to start with. Here are the steps for different Windows OS users to perform a standard uninstall.
For Windows 7 users:
Access to Start > Control Panel > Programs to open Programs and Features panel.
Select Bitdefender Antivirus Plus 2015 from there, and then click Uninstall button.
For Windows 8 users:
Right click Start menu and then click Programs and Features from the list.
Highlight Bitdefender Antivirus Plus 2015 in the list, and click Uninstall.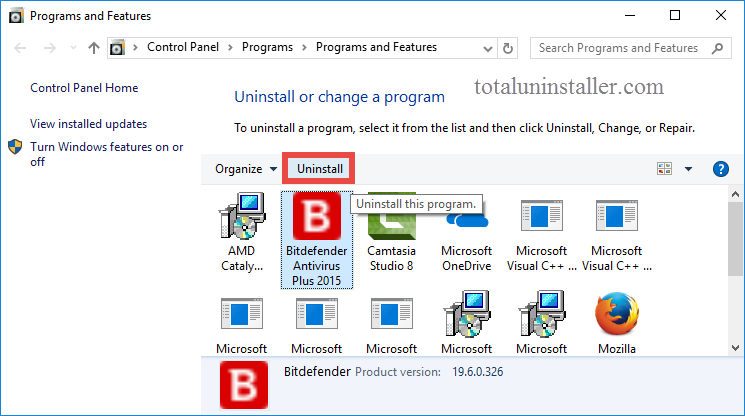 For Windows 10 users:
Click Start menu, and locate Bitdefender Antivirus Plus 2015 from the list of installed programs.
Click on Repair or Uninstall option under the Bitdefender 2015 folder.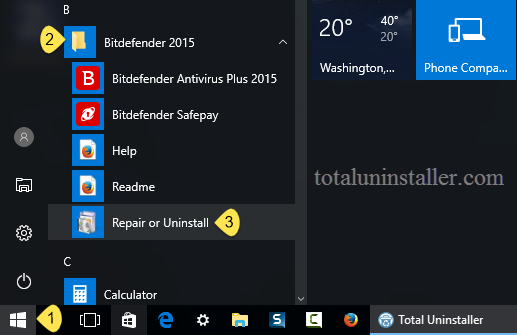 Windows 10 users can also uninstall Bitdefender Antivirus Plus 2015 via the Settings app. Just head to open Settings from Start menu, and click on Apps & features on the left pane. Then choose Bitdefender Antivirus Plus 2015 on the right pane, and click Uninstall button twice.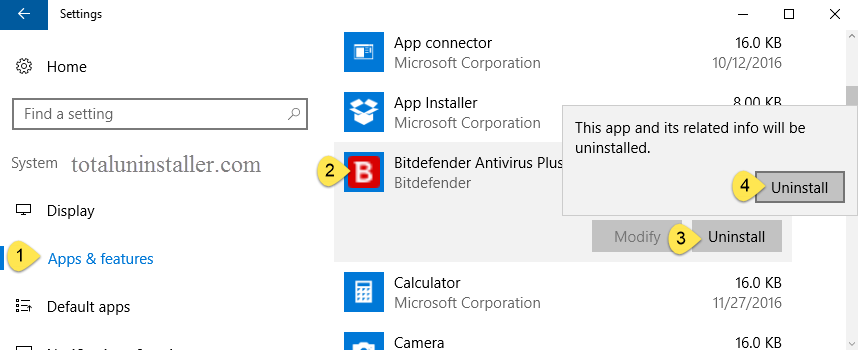 The uninstall wizard will pop up, and then follow the prompts:
Click Remove button in the Bitdefender Repari Or Uninstaller window.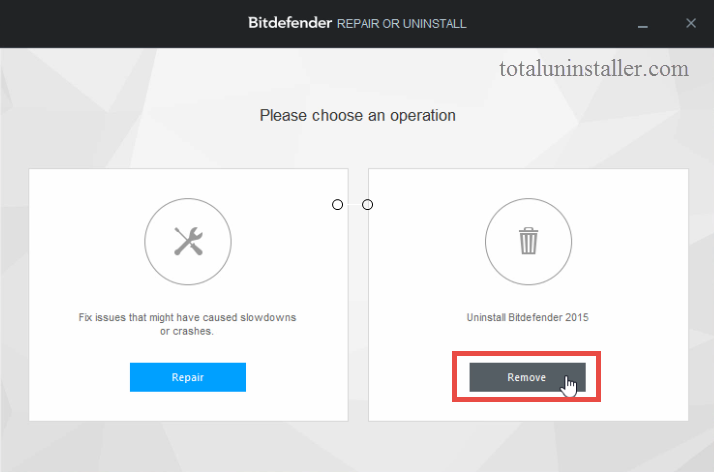 Choose I Want to Permanently Remove It, and click Next button.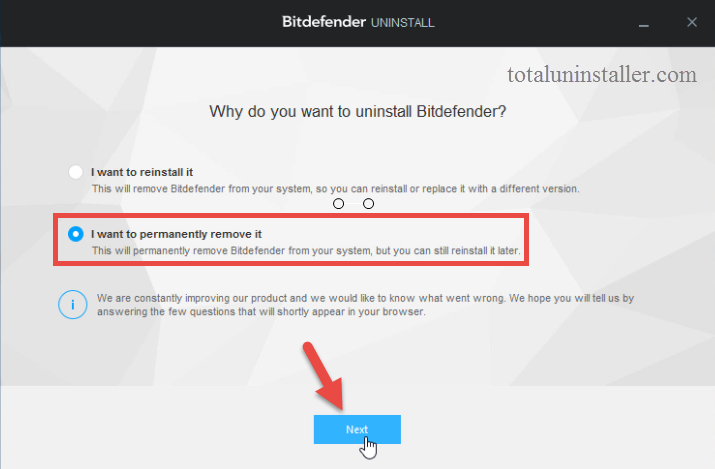 Wait for the uninstall to complete, and click Restart to finalize the process.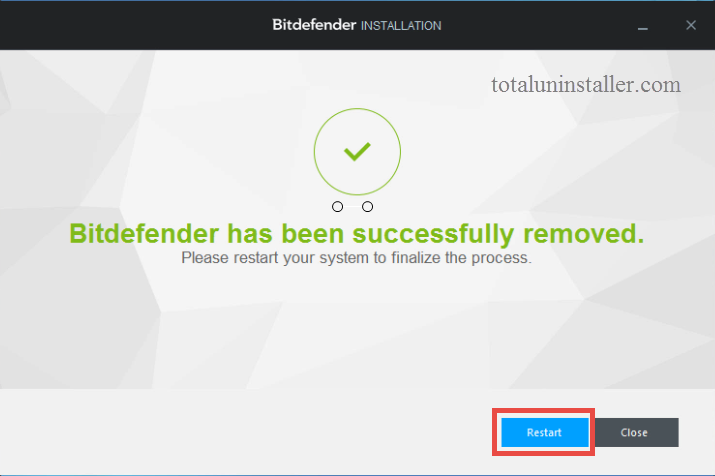 Option 2: Run Bitdefender Antivirus Plus 2015 Dedicated Uninstaller
Most antivirus software come with their dedicated uninstallers (usually located in installation folder). If the app you want to uninstall does not show up in the Control Panel, here is the alternative: you can directly activate its uninstall program.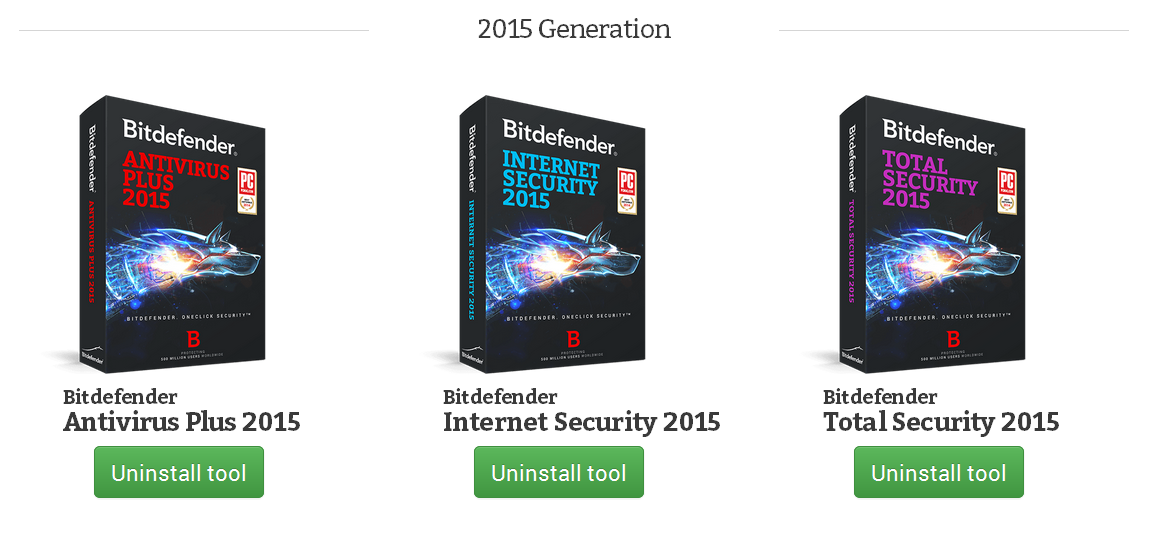 Bitdefender also provides separate uninstall tool for different products. If you want to install the dedicated uninstaller to get rid of Bitdefender, see this download link. Note: after you use this tool to uninstall Bitdefender Antivirus Plus 2015, you will need to uninstall this tool too. So we don't recommend this option if the first one works.

Wait... How about Bitdefender Antivirus Plus 2015 Leftovers?
If you has successfully uninstalled Bitdefender Antivirus Plus 2015 from Control Panel, here is the additional step you need to take: deleting its remnants left around your system. To thoroughly detect invalid files and folder, you can follow these steps:
1. Delete entries in registry
Go to Start > Run, type "regedit" and hit Enter to launch Registry Editor.
Click Yes if you are prompted to give confirmation in UAC dialog.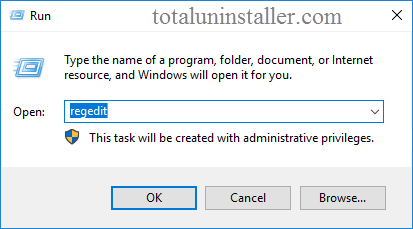 Click the Find from Edit menu, type Webroot in the Find box, and hit Enter key.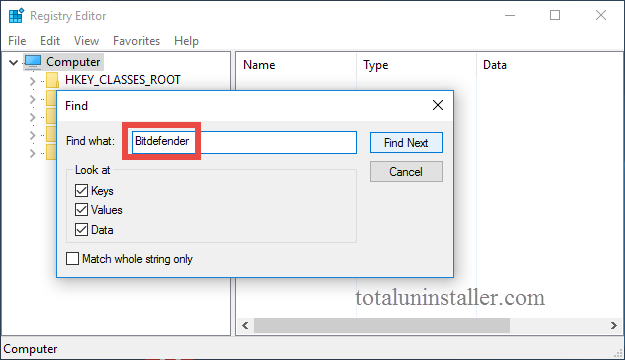 Once found, right click on the key or value and choose delete option from the list.
Hit F3 to locate the next one, and repeat the steps to delete all related entries.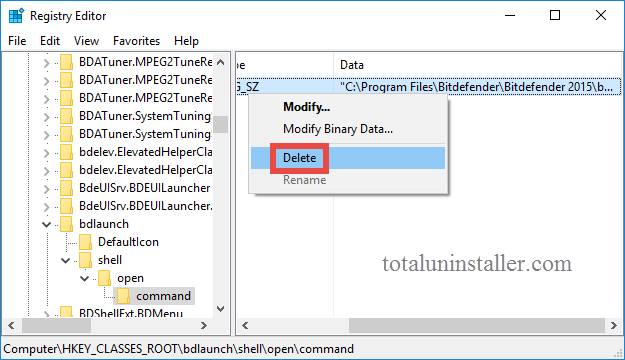 Warning: You must be very cautious when making changes on Windows Registry. Inexperienced users are not recommended to modify the registry without making a backup copy, cause serious issues may occur if you mistakenly delete keys or values there. If you are reluctant to carry out this task, we strongly recommend you to utilize an professional uninstaller or a registry cleaner to get the job done automatically.
2. Remove leftovers in disk
Head to Start > Control Panel > Folder Options, and then select the View tab.
Check the "Show hidden files and folders" in Advanced settings and click OK.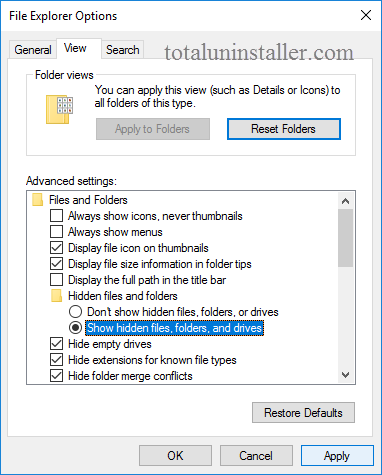 Right click on the Start menu and choose File Explorer from the list.
Click on This PC, and type Bitdefender Antivirus Plus 2015 in the Search box.
Delete items pertaining Bitdefender Antivirus Plus 2015 in the scanning result.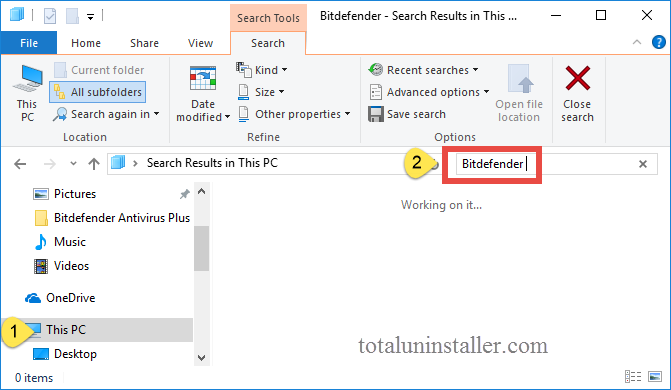 So that's the end for manual uninstall. Manual work requires much time and patience, and even you perform the steps strictly, uninstall may still fail out for unknown cause. That's why we raise the third option. If you want to uninstall Bitdefender Antivirus Plus 2015 without hassle, why not try the recommended solution listed below?
Option 3: Remove Bitdefender Antivirus Plus 2015 via Total Uninstaller
Feel the manual steps above are too complicated to complete? Try to find a much easier and quicker way to tackle the uninstall? A professional, reliable uninstaller might be what you're looking for. Watch the video clip to see how Total Uninstaller works to help you uninstall Bitdefender Antivirus Plus 2015 without a trace left.
With Total Uninstaller in hand, you can simply take a few clicks to thoroughly uninstall any unwanted, stubborn, problematic or malicious program from Windows.
Part 1: select target program
Run Total Uninstaller after shut down Bitdefender Antivirus Plus 2015.
Select Bitdefender Antivirus Plus 2015, and click on Run Analysis.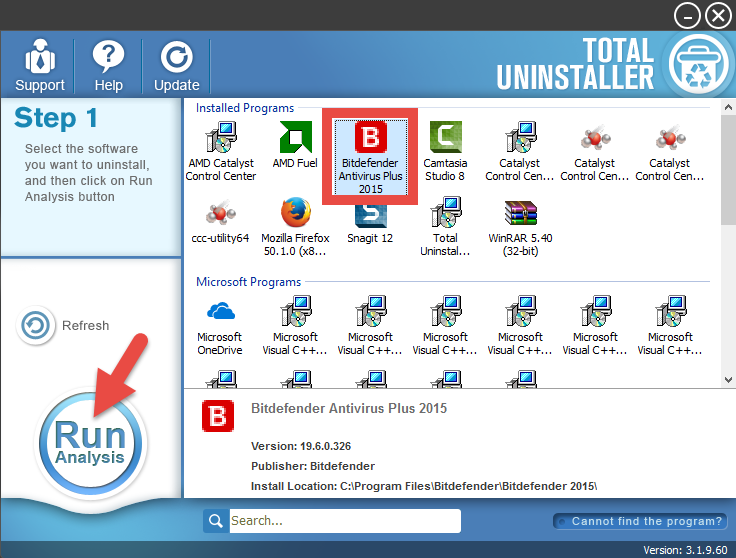 Part 2: perform the uninstall
Click on Complete Uninstall after all the components have been scanned out.
Click on Yes in the pop-up dialog and follow the onscreen instructions.
When prompted, click Restart button to reboot your computer.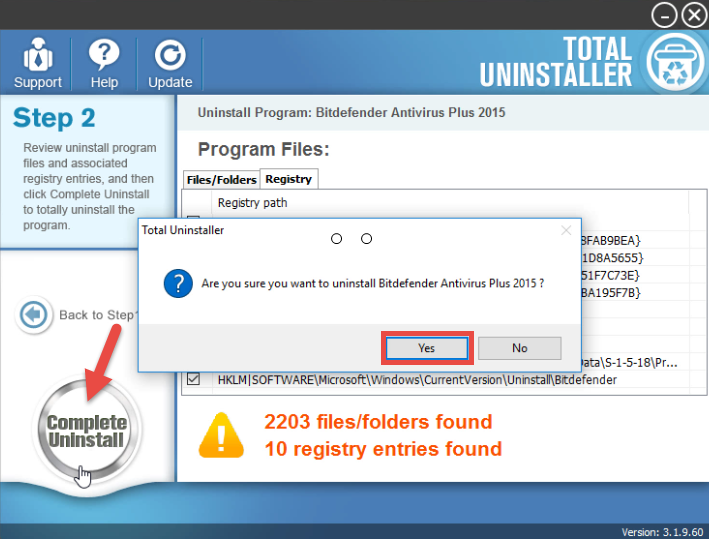 Part 3: delete program leftovers
Relaunch Total Uninstaller, and click on Review all the leftovers button.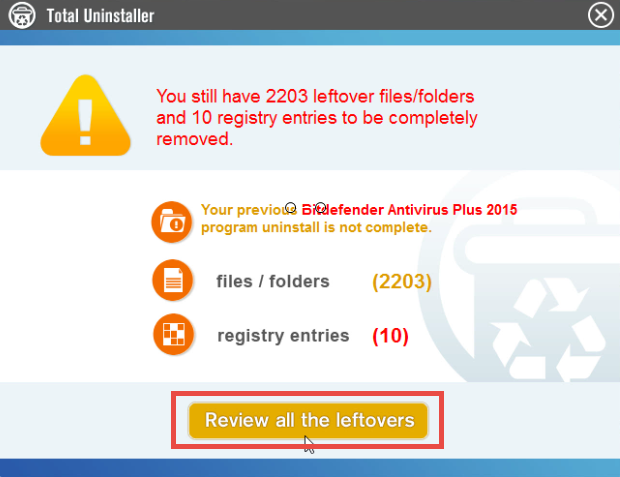 Click on Delete Leftovers > Yes to remove all the associated items scanned out.
When finished, click OK in the pop-up dialog, and then click on Back to Step 1.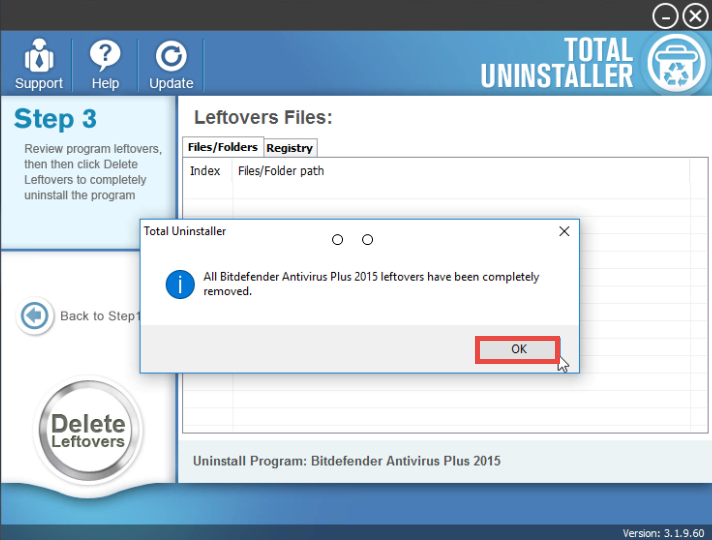 You can see that the whole uninstall only take a short time to complete, and it helps remove all the components of Bitdefender Antivirus Plus 2015 that scanned out.

Thanks for reading the "Uninstall Bitdefender Antivirus Plus 2015" guide. Welcome to leave your comment. Contact us if you have problem in using Total Uninstaller.