If you're serious about knowing how to Uninstall Cheat Engine, then you already know that you need the most complete and thorough cleaning of leftovers. To clear out this Cheat Engine in Windows computers it is essential to have a basic knowledge of Add/Remove programs. Whether it's your goal to uninstall a program for getting it back to work on your PC normally, or remove some unwanted software, one thing is clear, you will need to be sure that all left files, registries, and folders should be wiped out in your system completely. Throughout this 'how to uninstall tutorial' you will know two methods on how to remove Cheat Engine step by step.
Warm tips: click the below button to download a professional uninstaller tool, which helps you uninstall Cheat Engine and any programs you desire to uninstall completely.

Cheat Engine Overview
Cheat Engine is free and open-source, a kind of game scanner intended for scanning in-game memory and inspecting memory modifications. Cheat Engine also is a memory modification and debugging tool, which can modify game data by inspecting game memory and cached data to achieve the purpose of the game modifications.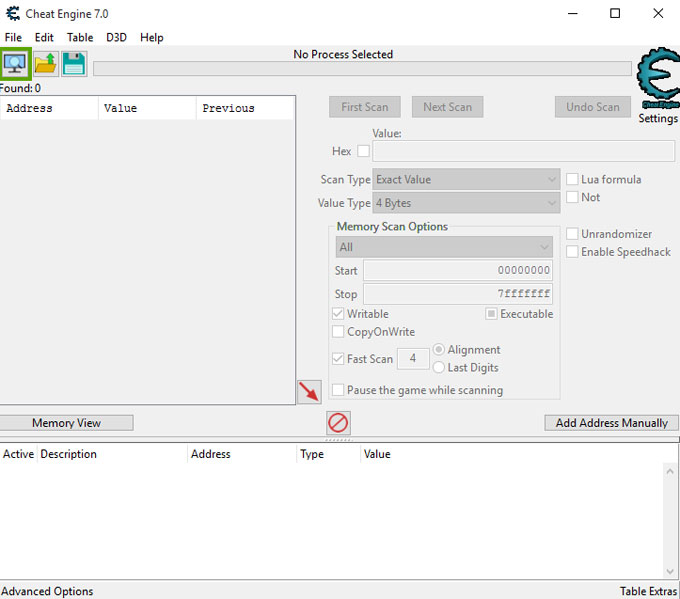 Cheat Engine has a great feature that allows users to scan memory in a very fast pace and change variables. Besides that, Cheat Engine also comes with an extensive scripting support that will be very beneficial for some experienced programmers to build their own applications without many efforts. And the new official public version of Cheat Engine will come out in soon future.
If you need help on how to remove Cheat Engine – the old version that you don't want to use again, continue to read more on how to uninstall Cheat Engine.
How to Uninstall Cheat Engine on A Windows-based Computer?
Method 1: - Remove Cheat Engine Using Manual Ways
Step 1: Close all process related with Cheat Engine.
Go to Task Manager > Click Cheat Engine > Click End Task.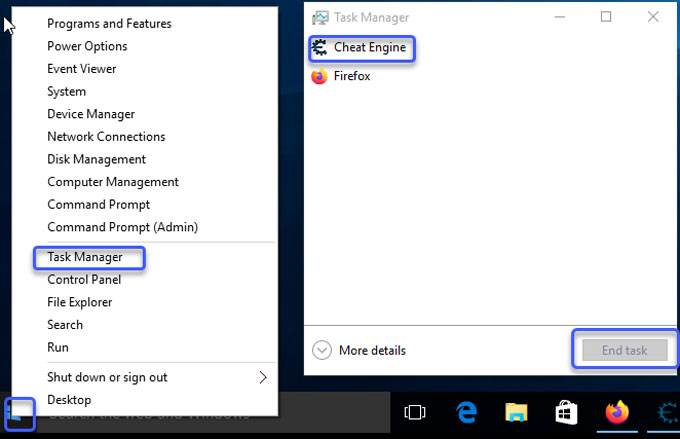 Step 2: Open Programs and Features or Add/Remove Programs. Refer to 3 ways according to your operating system.
Open the Control Panel > Click Uninstall a program. (for Windows 7/8)
Click the Start button > Click Settings > Apps > Apps & features. (for Windows 10)
Right click Start button > Click Programs and Features. (for Windows 10/8)
Step 3: In the Programs and Features window > Right-click Cheat Engine > Click Uninstall > Click Yes to make sure you want to remove it. Wait a while for the removal to be finished.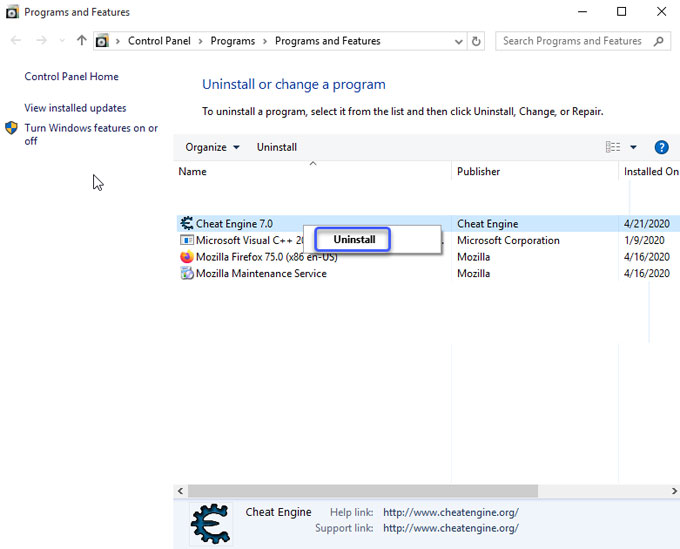 Step 4: Open Registry Editor and delete left entries there.
Right-click Start menu > click Run >Enter regedit in Open box > Press Enter key to open the Registry Editor window.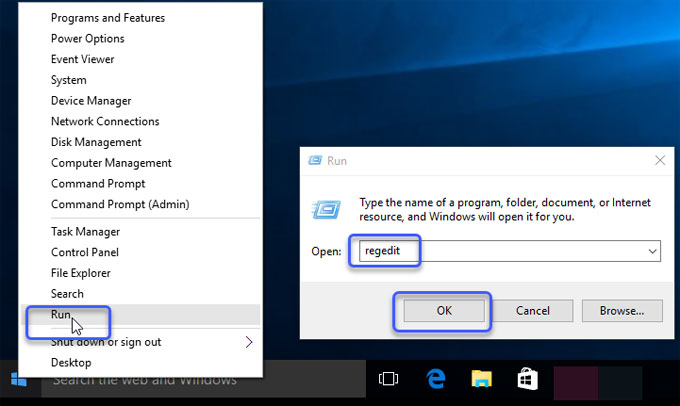 Click Edit > Click Find option in the drop-down list> Enter the pathname or app's name like Cheat Engine in Find what box > Click Find next. Search and delete all results associated with Cheat Engine.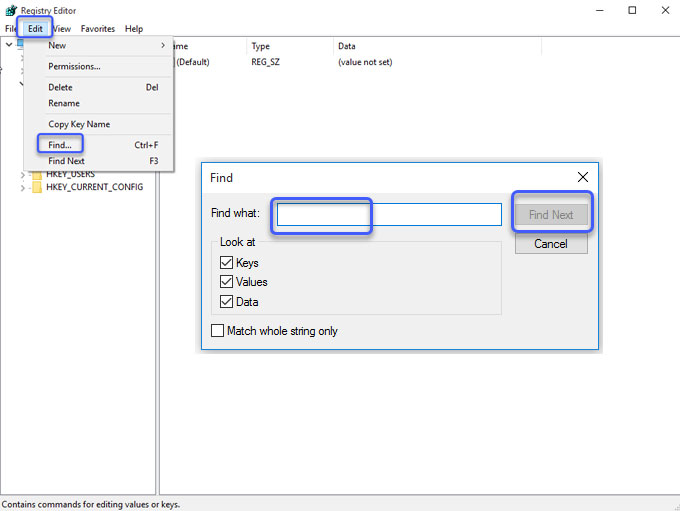 Remember! Be careful with any entries deletion, any wrong removal may lead to some crashed problems or the issues like "this software already installed on your system." And you can't uninstall and reinstall it.
Method 2 – Uninstall Cheat Engine Using Total Uninstaller
Total Uninstaller is made for uninstalling a program on the Windows-based computer with ease. Now let's see how it works here.
Step 1: Launch Total Uninstaller on your computer > Click Cheat Engine > Click Run Analysis.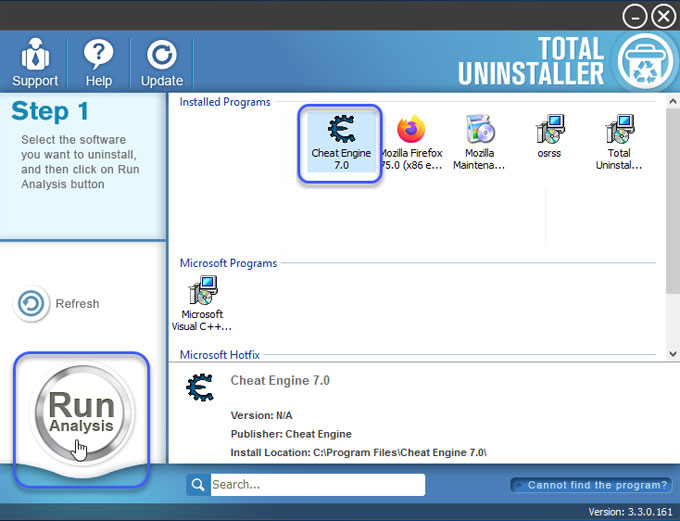 Step 2: Click Complete Uninstall > Click Yes to make sure that you wish to remove Cheat Engine.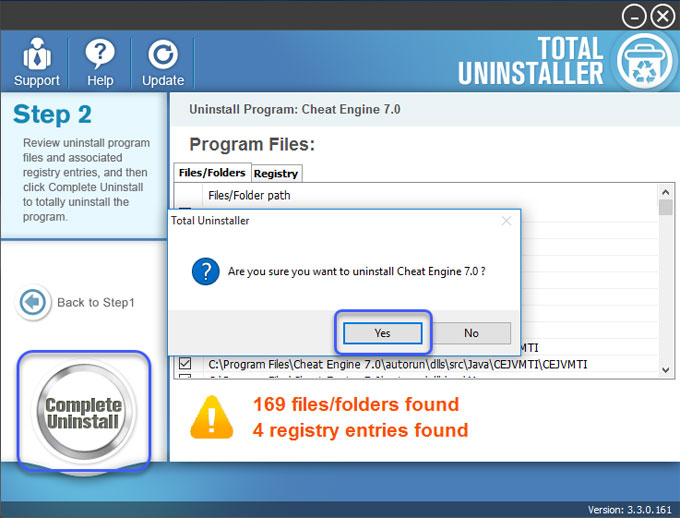 Click Yes to make sure that you want to completely remove Cheat Engine 7.0 and all of its components.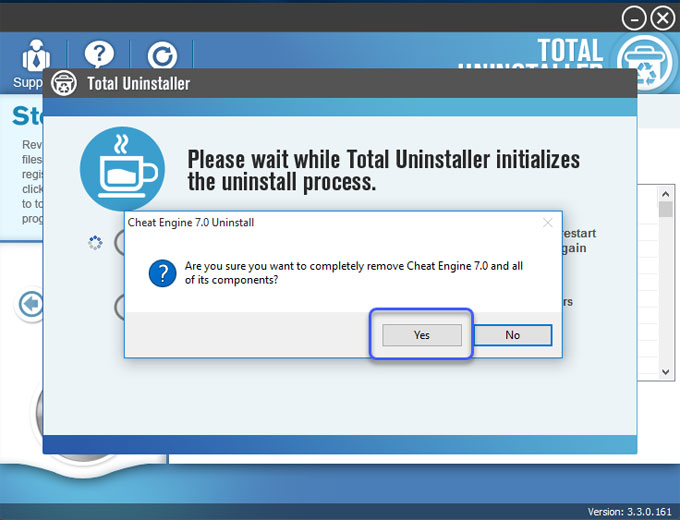 Cheat Engine 7.0 was successfully removed from your computer. Click OK to continue the next step.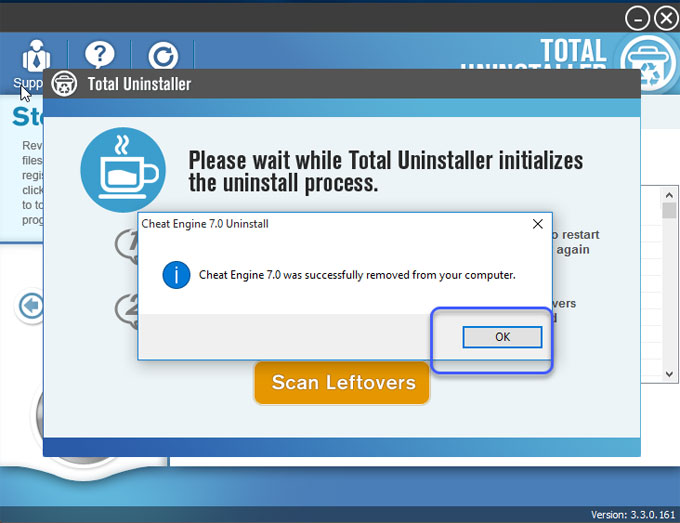 Step 3: Click Scan Leftovers > Click Delete Leftovers > Click Yes to confirm you want to completely remove Cheat Engine  leftover files and registry entries.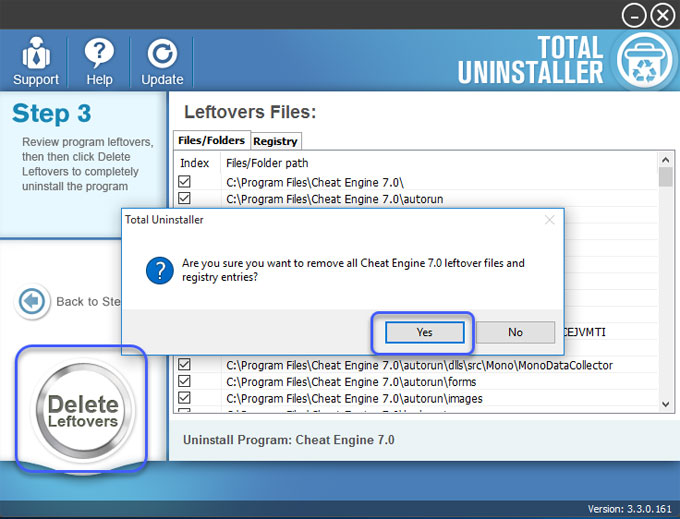 All Cheat Engine leftovers have been completely removed. Click OK and quit Total Uninstaller. Restart your computer.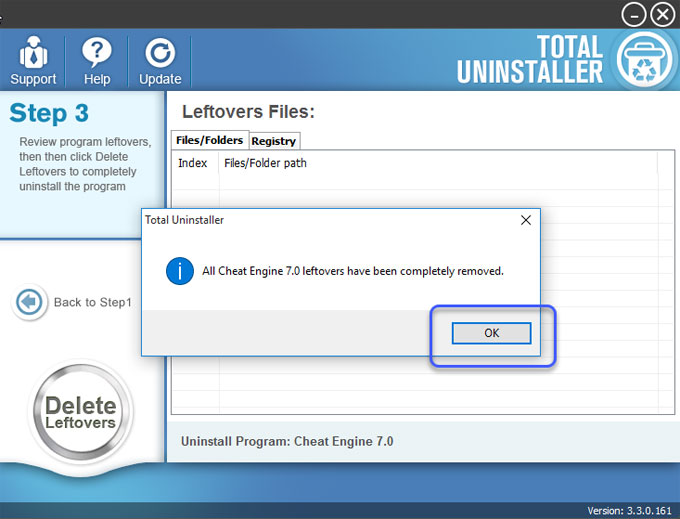 Tips: Look at a simple video guide on how to uninstall Cheat Engine using Total Uninstaller tool as followed.
Read more on how to uninstall tutorials here:
Conclusion
Finally, you will know how to choose a proper method to uninstall Cheat Engine without any efforts. You will also know how to utilize the professional uninstaller tool of Total Uninstaller to clear out leftovers with ease, which enables you delete junk files through a few of clicks. Even if you feel you don't posses any knowledge of computing skills, you need not to fear as this Total Uninstaller is intended for taking you from absolute beginning all the way to finish. Are you interested in giving it a try? Click the below button to get it.