Learn how to Uninstall SHAREit software and get rid of junk files from your Windows-based computer - like a pro.
Want to know the best, safest, and easiest way to remove SHAREit or other Windows programs with ease? Want to get everything you need to clean out leftover files, folders, and registry entries easily?
In this uninstall guide, we'll talk about how SHAREit removal works, how to pick up the basics of uninstalling a Windows program, and what tools you need to clean out leftover files thoroughly.
Whether you plan to uninstall SHAREit by your own hands or try a professional uninstaller tool -- understanding how uninstall works will help you feel more confident and assured about a complete removal. If this describes you, then you're ready to know how to uninstall your Windows programs from beginning to end.
Are you looking for professional uninstaller tool? Click the download button to give it a try in no time.

SHAREit Overview
SHAREit is an across-platform application intended for people transferring files on different devices. Whether you want to transfer videos, musics, or apps from Android, to iOS, to PC or Mac, SHAREit will make it come true very easily. Till now, there have been over 500 million users using SHAREit and most of them regard it as the sharing files tool of choice across platforms. The core function of SHAREit is to transfer files between people without the need for cloud storage.
The great thing is that SHAREit won't require a wifi connection or Bluetooth, which allows people transferring files among devices without limitations. Besides that, SHAREit comes with itself built-in video player that allows users to stream HD videos conveniently. And users also can listen to their favorite musics online and offline.
How to Uninstall SHAREit from Windows Computer?
In this first part, you will get how to uninstall SHAREit and remove its leftovers in manual way. Part II of the guide will introduce the technical uninstaller tool of Total Uninstaller, which is capable of removing any Windows programs just in a few of clicks.
Do you want to know how to uninstall a Windows program and delete left files?
Do you prefer learning using professional uninstaller tool to start a cleaning of unwanted programs without obstacles?
If you have answered Yes to the above question, then you are in the right place. Let's look at how you will uninstall SHAREit now.
First Method - Remove SHAREit Manually
Over this part, you will get how to uninstall SHAREit and delete its leftovers using a manual way, which will make you familiar with how to solve some of the unwanted programs removal that can sometimes occur with Windows computers.
1. Open Task Manager and complete quit SHAREit there. Right-click the Start menu > click Task Manager > click SHAREit > click End task or End process.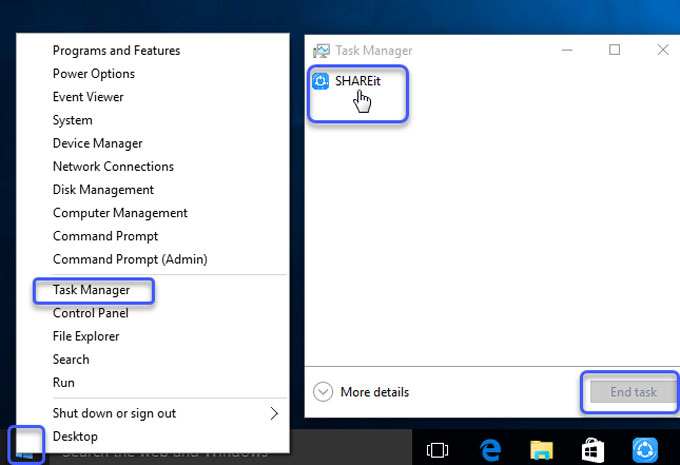 2. Right-click the Start menu > click Programs and Features.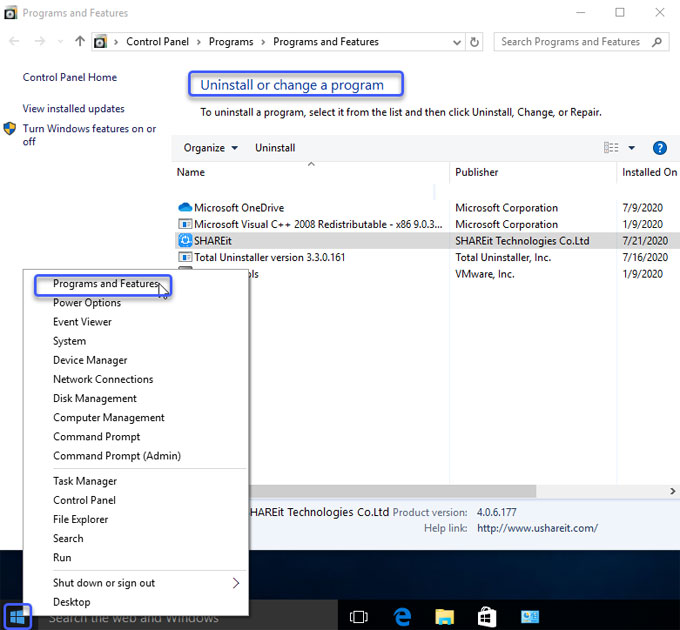 3. When you look at the Uninstall or change a program window, highlight SHAREit> right click & select Uninstall.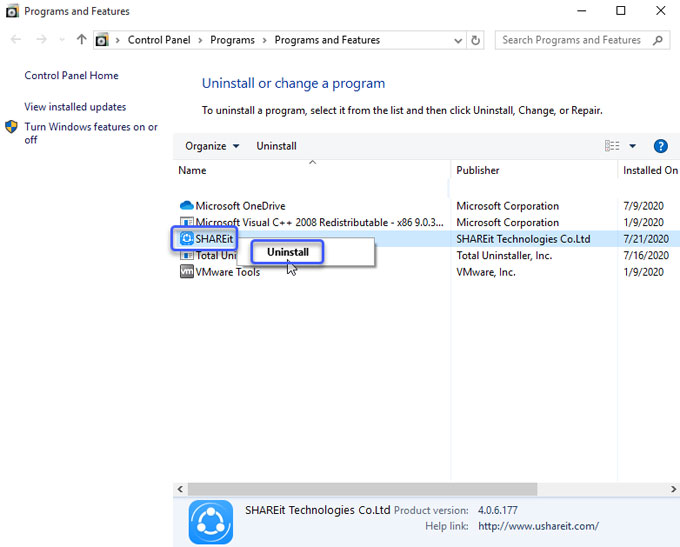 4. Click Uninstall again to make sure you want to start this SHAREit removal. Follow pop-up instructions to finish uninstalling SHAREit from your Windows computer.
5. Delete leftovers. Right-click Start menu > click Run >Enter regedit in Open box > Press Enter key or click OK to open the Registry Editor window.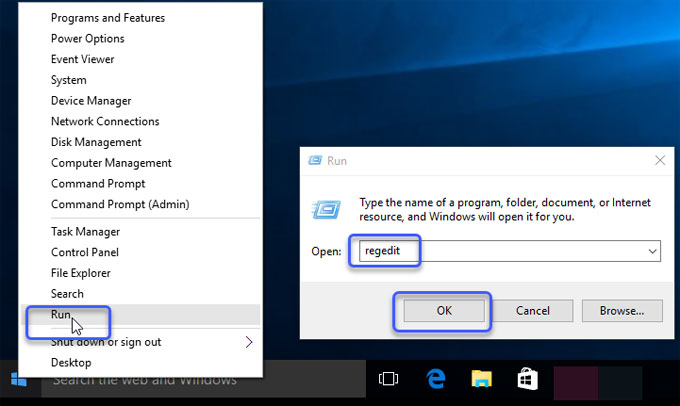 6. When you look at the Registry Editor, click Edit > Click Find option in the drop-down list> Enter SHAREit pathname in Find what box > Click Find Next.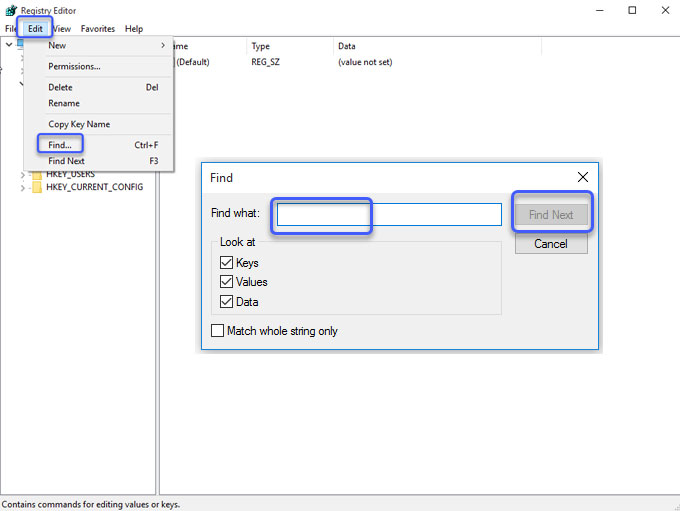 7. In the search results, you need to figure out SHAREit leftover files correctly. Any wrong deletion may lead to some crash issues or other unwanted re-install failure problems.
Second Method - Uninstall SHAREit Automatically
You will get how to uninstall SHAREit and completely remove leftovers using a professional uninstaller tool named Total Uninstaller here. The guide shows Windows computer users how to remove an unwanted programs and clean out its leftover files very easily.
1. Launch Total Uninstaller on your computer > Click SHAREit > Click Run Analysis.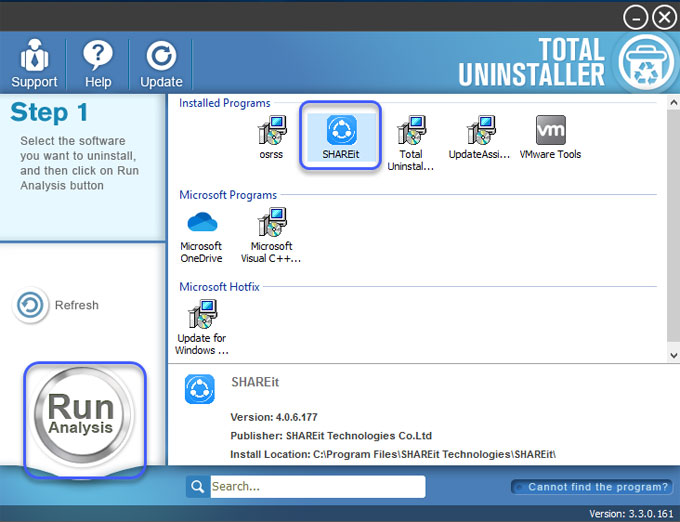 2. Click Complete Uninstall > Click Yes to make sure that you wish to uninstall SHAREit.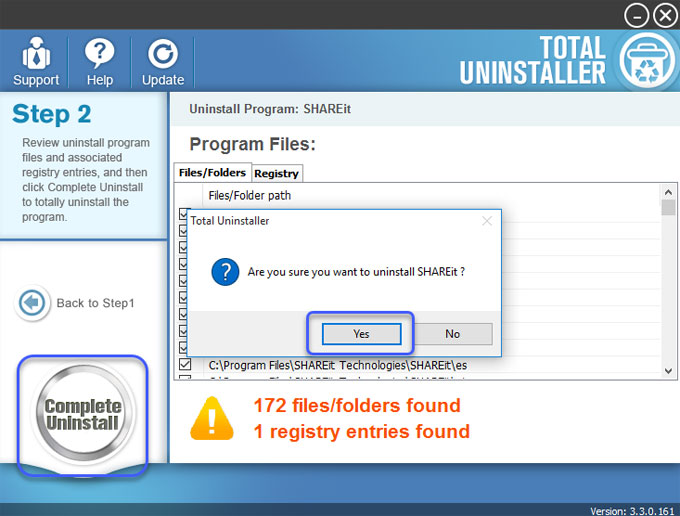 3. Click Yes to be sure you want to completely remove SHAREit and all of its components.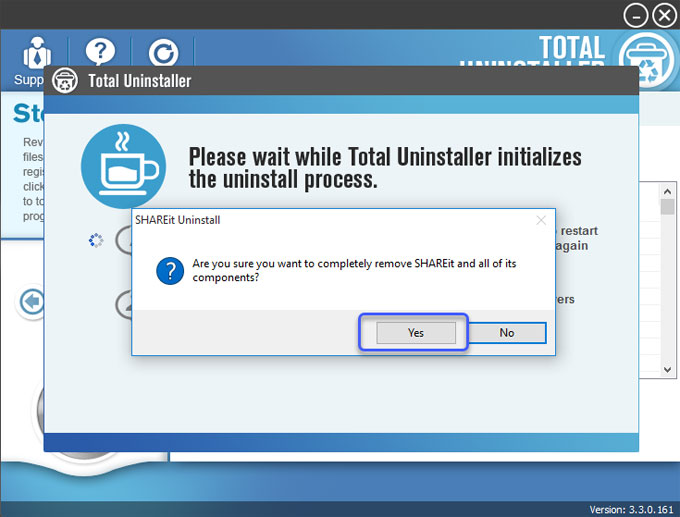 4. SHAREit was successfully removed from your computer. Click OK > Click Scan Leftovers.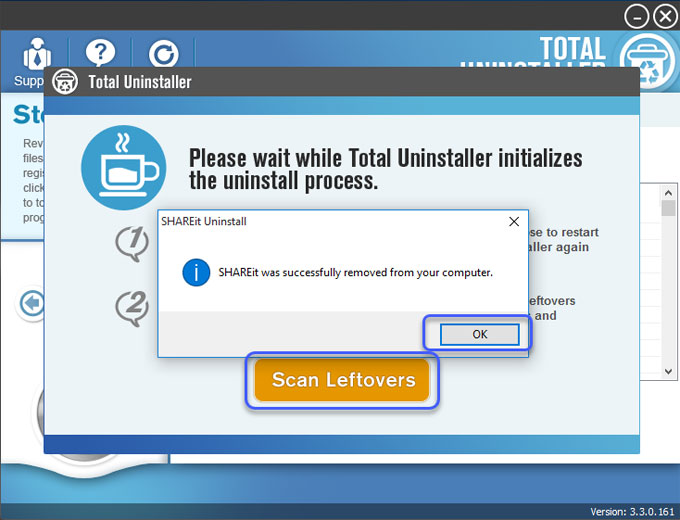 5. Click Delete Leftovers > Click Yes to make sure you want to delete all SHAREi leftovers from your computer.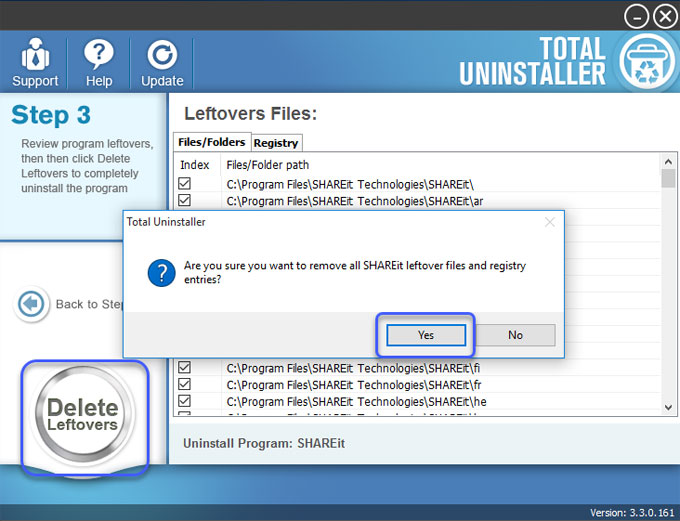 6. Click OK to quit the Total Uninstaller tool. Restart your PC.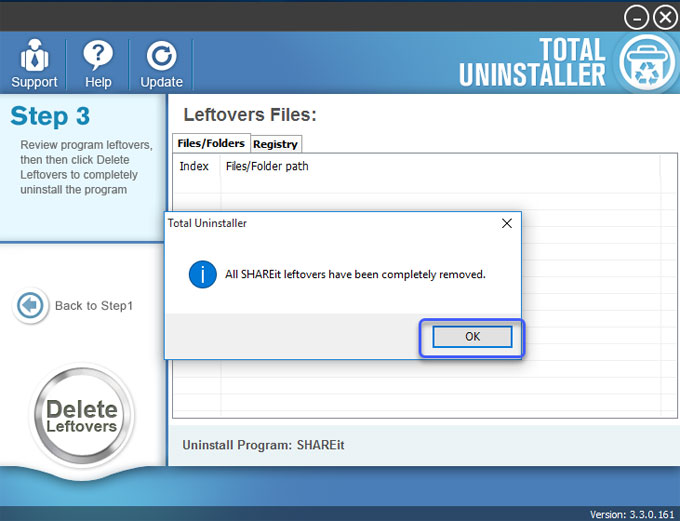 Tips: Refer to a simple video guide on how to uninstall SHAREi completely as followed.
Conclusion
This guide is for those needing to become familiar with Windows programs uninstall. By the end of this removal guide, you will know what methods and professional uninstaller software will be right for you and how to uninstall SHAREit manually and automatically.
Additionally, you can click the download button to use a professional uninstaller tool to remove any unwanted programs effortlessly.