Wondering how to...
Uninstall Snipping Tool effectively and easily?
Uninstall all leftover of Snipping Tool on your PC?
Uninstall your Windows PC built-in programs and tools?
Uninstall any unwanted programs and avoid wasting your time?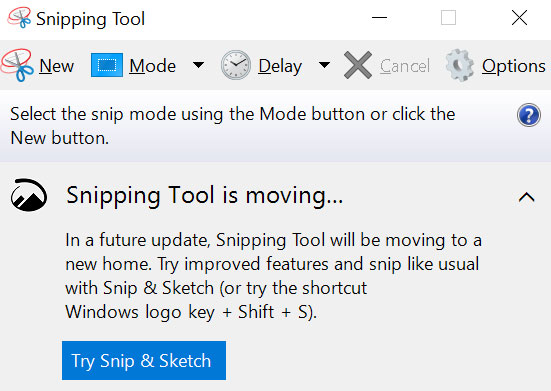 If so, then this Snipping Tool removal guide is for you.
The Snipping Tool removal guide is best for computer beginners for knowing an easy and safe way to wipe all things about Snipping Tool out. If you have any hassles with removing Snipping Tool, here is a right place to get started. There are two methods are used for cleaning out Snipping Tool on computers. You will know how to uninstall Snipping Tool from computers in Windows step-by-step here. The first is the manual way and the second is through a professional uninstaller tool. To get the professional Total Uninstaller tool, click the below button to install it just in minutes.

Snipping Tool Overview
Snipping Tool is a Windows PC built-in tool for taking screenshots, capturing the whole screen, a pop-up window or any other area of the screen. If you simply want to capture the content on the screen, then Snipping Tool can be very easy to use and cater that need. Snipping Tool can be not merely used to take screenshots but also can highlight and mark up a screenshot.
However, Snipping Tool doesn't offer much functions for those people who are looking for many customization features, adding annotations after screenshot, or more accurate control of screenshot content.
Methods on How to Uninstall Snipping Tool from Computers in Windows
There are two methods explained here for helping uninstall Snipping Tool from your computers and tidy up your system. Both of the two methods are suitable for any Windows users, no matter you are reading this on a Windows10 computer, or Windows 8 or more. The Snipping Tool removal guide are broken into step by step instructions, all you will have to do is follow along. So, let's begin.
First Method - Manual Ways to Remove Snipping Tool/Snip &Sketch (new name)
Snipping Tool is a part of the Windows operating system, so it can be uninstalled through Apps and Features or Add/Remove program. However, you can't see any option to uninstall it on Snipping Tool itself either, because it is moving. Snipping Tool will be moving to a new home - Snip & Sketch.  If needed, you can choose to uninstall Snip & Sketch to delete Snipping Tool manually. Refer to the manual ways as followed.
Right click Start menu, select Apps and Features or Add/Remove Programs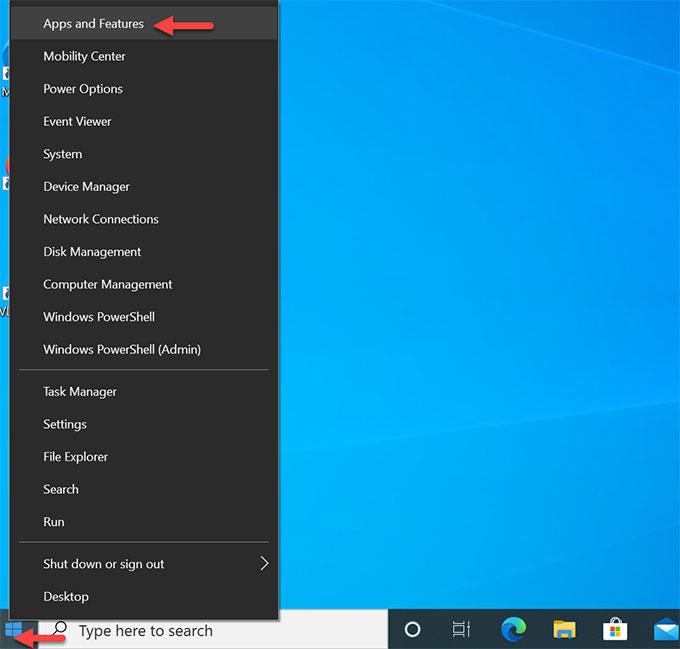 Select on Snipping tool/Snip & Sketch > right Click on it and select Uninstall.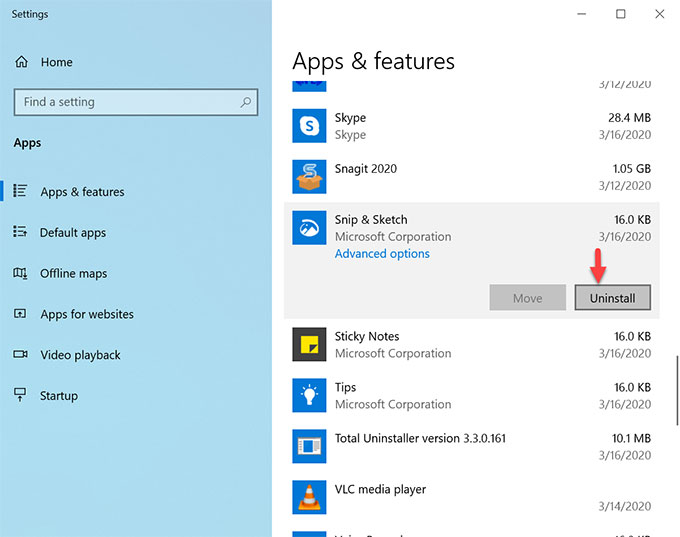 You will see a message "This app and its related info will be uninstalled." Click Uninstall to confirm this removal. Follow pop-up prompts to finish the Snipping Tool uninstall. Once done, restart your computer.
Second Method - Uninstall Snipping Tool Using Total Uninstaller
If you are looking to uninstall Snipping Tool completely, we highly recommend you try the second method immediately. Total Uninstaller is a professional Windows app uninstaller tool. This pro uninstaller tool is best for computers users for removing any unwanted software on the computer. If you have questions just about uninstalling some needless applications, then Total Uninstaller is able to help you.
Furthermore, Total Uninstaller can scan all Windows PC built-in programs and tools for you, such as Snipping Tool/Snip & Sketch. By using Total Uninstaller, you will feel more effortless in removing any unnecessary program that comes with Windows, and any other third-party programs. Follow the easy steps here to uninstall Snipping Tool with a few of clicks.
Launch Total Uninstaller at first. On the Step 1 interface, you will see all installed programs and apps come with Windows.
Select on the Snipping Tool that you wish to uninstall, then click Run Analysis. Total Uninstaller will automatically collect all files and folders associated with Snipping Tool, this may take a few of seconds.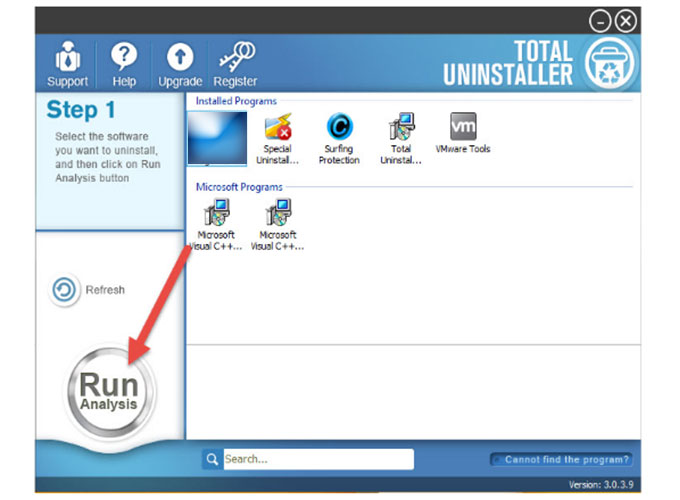 Once the analysis finished, click Complete Uninstall and Yes to remove Snipping Tool.
Next, a thorough removal of Snipping Tool requires a complete cleaning of leftovers. Click Scan Leftovers, you will see a total number of files, folders and registries of Snipping Tool.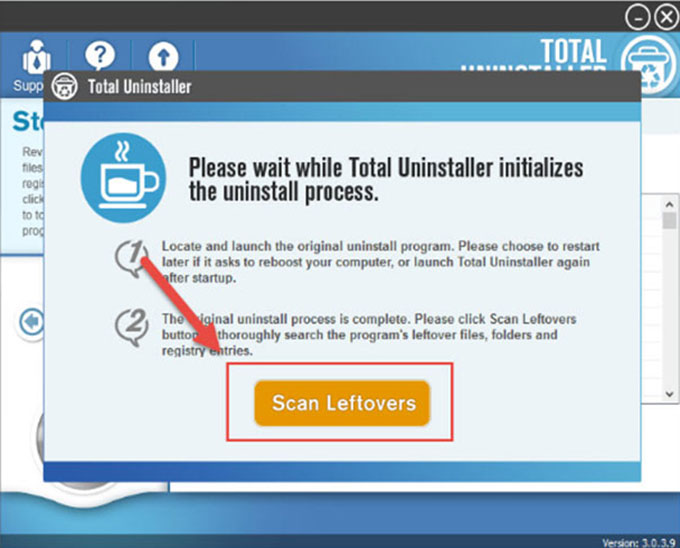 Click Delete Leftovers to clean all leftovers of Snipping Tool.
If you can't find Snipping Tool on the Step 1 interface, you can choose to search and scan it by...
One the Step 1 interface, type in Snipping Tool in Search field or click Cannot to find the program?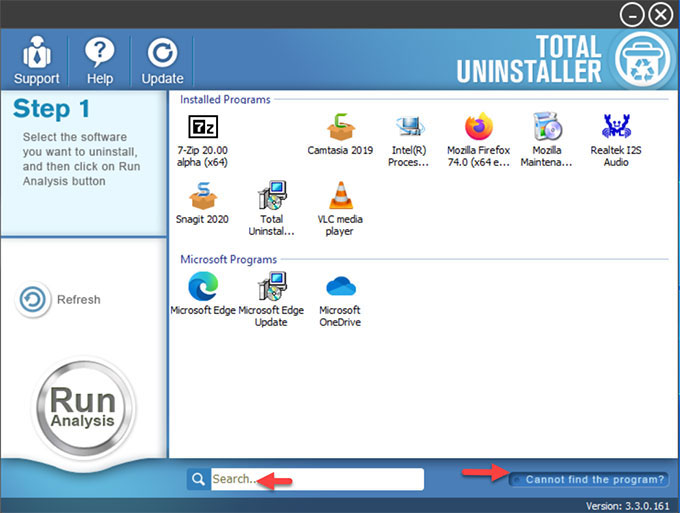 Fill in the name of Snipping Tool or install directory in search filed,  click Scan to collect all its registered files, folders, and entries.
Click Delete Leftovers button. All files related with Snipping Tool will be removed.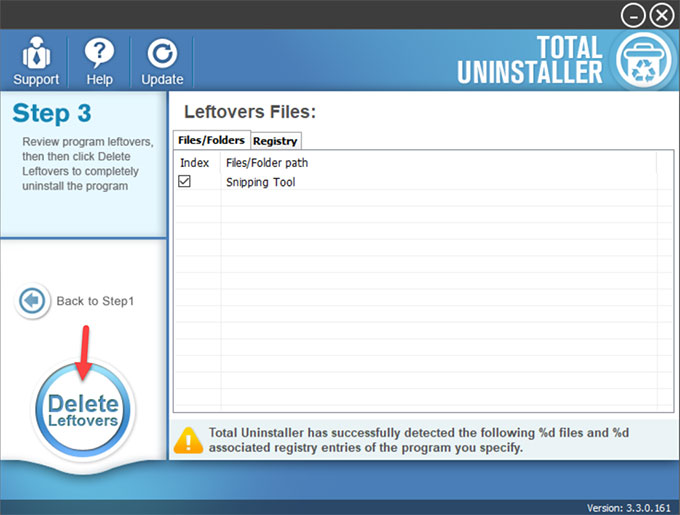 Till now, you may know how to use the two methods to uninstall Snipping Tool from your computers. The Total Uninstaller professional tool is highly recommended if you are not sure about dealing with Snipping Tool's leftovers by yourself.
Simple video guide on how to delete Snipping Tool leftovers as:
Conclusion
The Snipping Tool removal guide is for anyone who needs to uninstall Snipping Tool successfully. In this guide you will know how to use a professional uninstaller tool to remove any undesired applications from your Windows PCs, and how to get rid of all junk files for avoiding any further problems in the future. Download Total Uninstaller now to try the time-saving and technical uninstaller tool if needed.