Complete, easy and fast to understand. Uninstall Telegram using the Windows built-in uninstaller using the manual ways. Uninstall Telegram using the professional uninstaller tool named Total Uninstaller. In this post, you will be using manual ways and professional uninstaller tool to remove Telegram and any other unwanted programs easily and completely.

First you will be knowing the basics of manual removal where you will understand how to take advantage of the Windows built-in uninstaller to remove a program by your own hands.
Next you will know how to uninstall Telegram and clean out it leftover files, folders, and registry items, each focusing on a specific area that will allow you to familiarize yourself with a complete leftovers removal.
Finally you will clearly know how to choose a right method to help you uninstall Telegram from your Windows-based computers like a breeze. You don't have to worry about leftovers removal when there are too many left files. You also don't have to worry about whether the Telegram program is completely removed or not from your computer.
Telegram Overview
Telegram is a reputable, cross-platform yet cloud-based instant messaging application that is born to deliver people the superb service of accessing messages from all sorts of devices at once. You can access messages and interact with others on your Android, iPhone, Mac, Windows PC, and others. For nearly all users, Telegram is not merely very simple to use but also private and powerfully encrypted so others hardly could stealing their personal information. Besides that, people is able to use Telegram on almost all current devices, all the chat messages can be synced and delivered faster than others. So, if you want to safe yet cloud-based messaging app that delivers incredible experience in both security and speed, Telegram can cater that needs. Along with that, Telegram comes with an open-source API, every developer can utilize the open API to code a new app for themselves.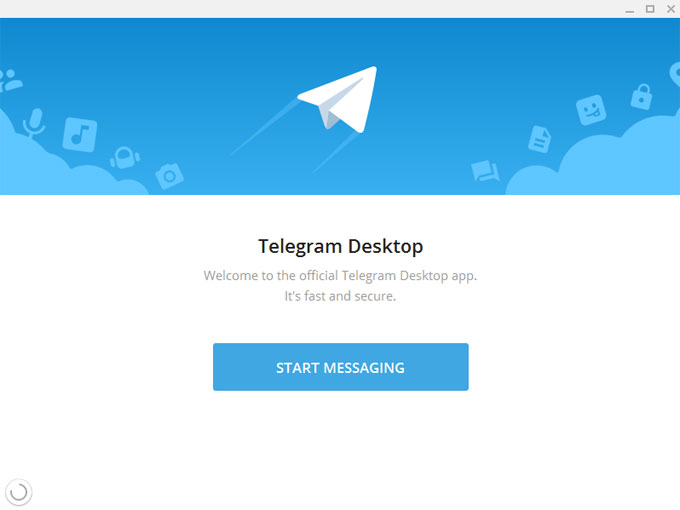 How to Uninstall Telegram on a Windows Computer?
Step by step you will get all basic steps and tips, we will uninstall Telegram together through two different methods. One of the methods will use the manual ways, and the other one will use the Total Uninstaller tool.
Method 1: Remove Telegram Using Manual Ways
Step 1: Open Task Manager and quit Telegram there thoroughly. Right-click the Start menu > click Task Manager > click Telegram > click End task or End process.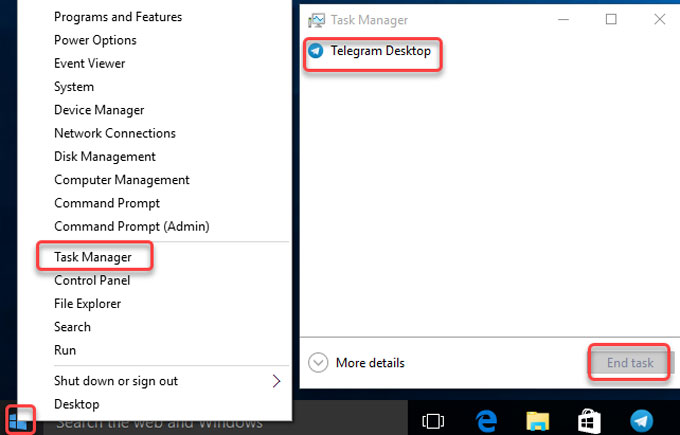 Step 2: Right-click the Start menu > click Control Panel > click Uninstall a program.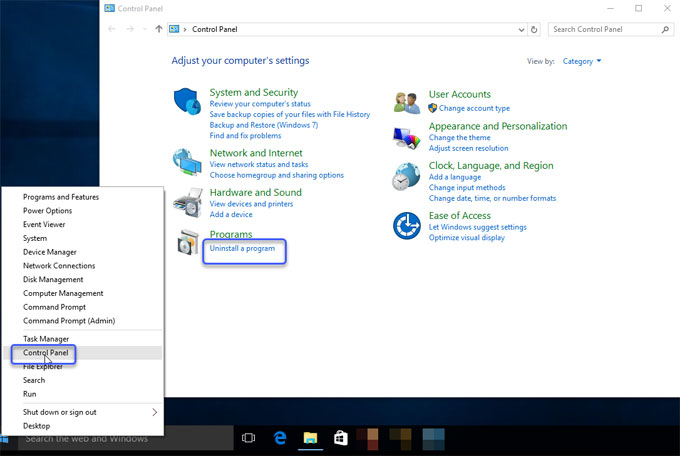 Step 3: In the Uninstall or change a program window, highlight the Telegram program > right click & select Uninstall.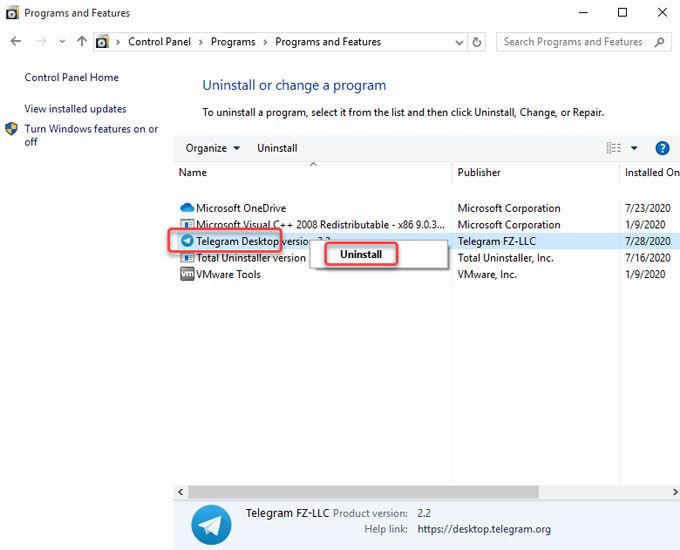 Step 4: Follow the pop-up Telegram uninstall wizard to complete this removal.
Step 5: Delete leftovers from Registry Editor. Open Run box > Enter regedit > click OK to open the Registry Editor. Click Edit > Click Find option in the drop-down list> Enter Telegram pathname in Find what box > Click Find Next.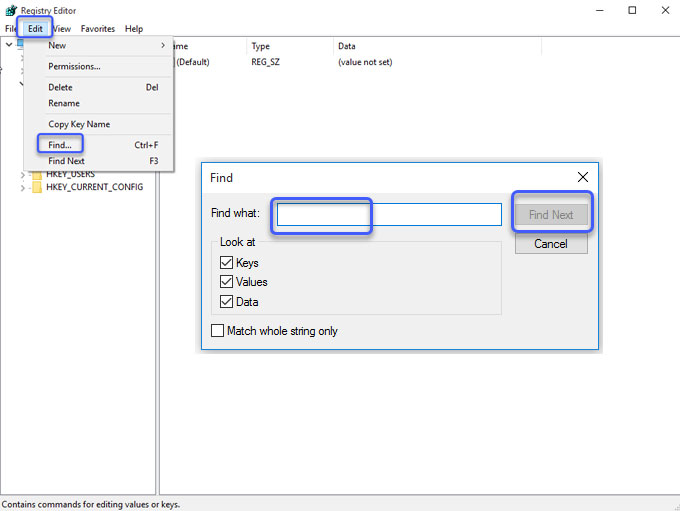 In the search results field, you need to pick up and delete Telegram left registry items rightly.
Method 2: Uninstall Telegram Using Total Uninstaller
You will know how to uninstall Telegram by using the Total Uninstaller tool here. Only a few of clicks involved.
Step 1: Launch Total Uninstaller > Click Telegram > Click Run Analysis.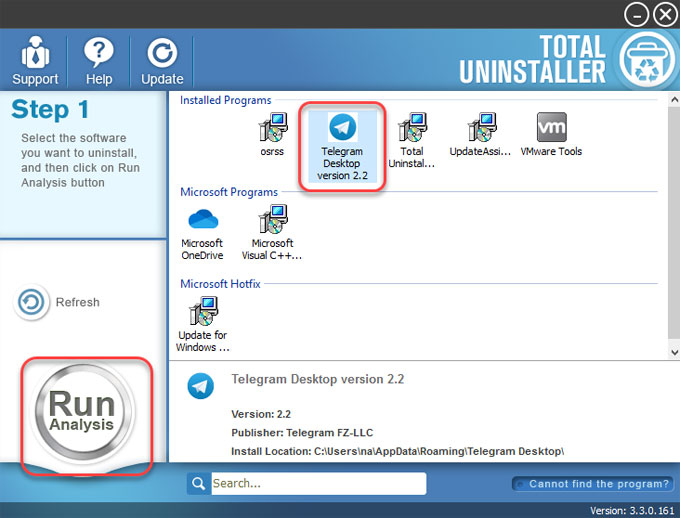 Step 2: Click Complete Uninstall > Click Yes to make sure that you would like to uninstall Telegram desktop from your PC.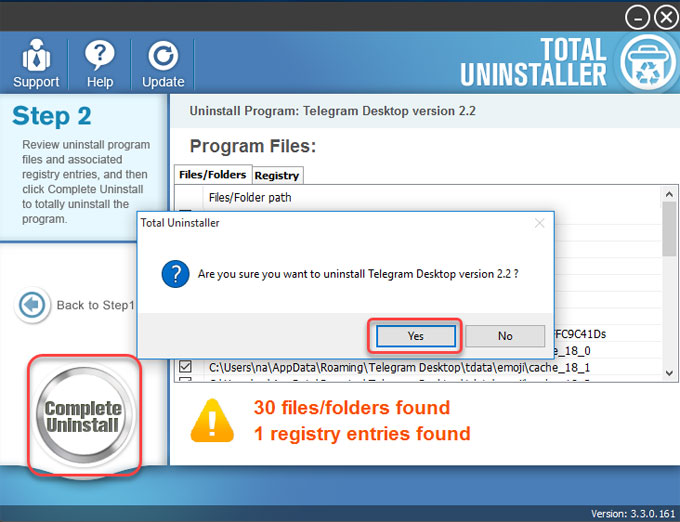 Step 3: Click Yes to be sure you want to completely uninstall Telegram and all of its components.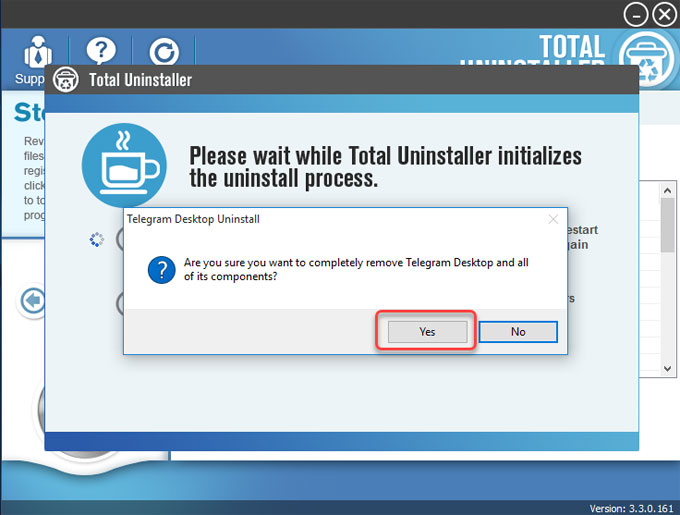 Step 4: The Telegram desktop program was successfully removed from your computer. Click OK > Click Scan Leftovers.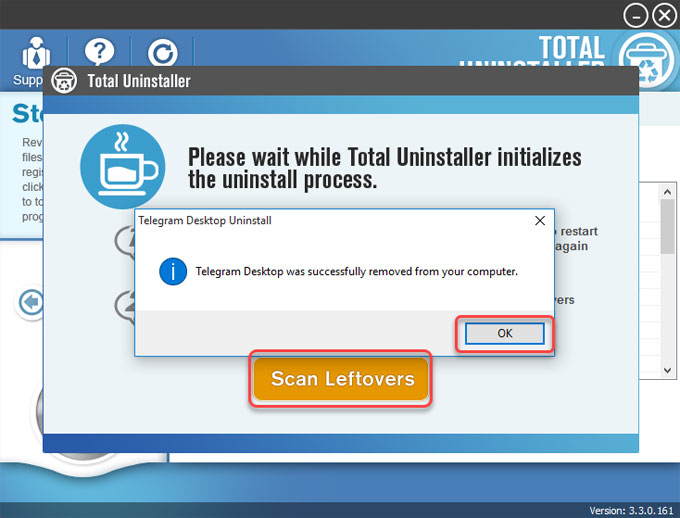 Step 5: Click Delete Leftovers > Click Yes to make sure you want to delete all Telegram leftover files and registry items from your computer.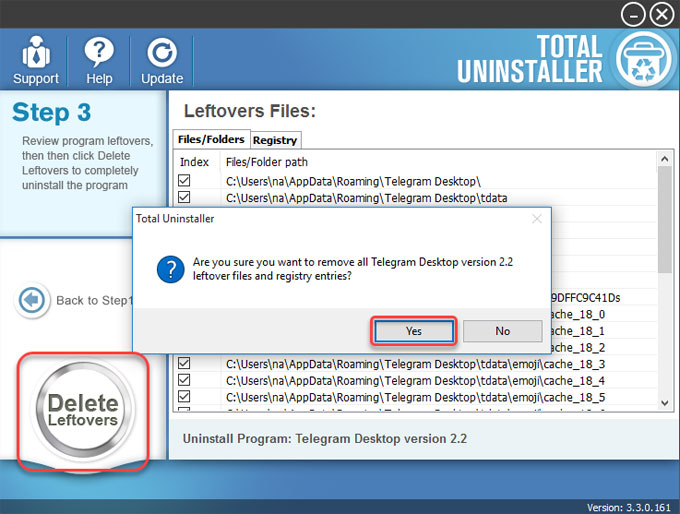 Step 6: Click OK to quit the Total Uninstaller tool. Restart your PC.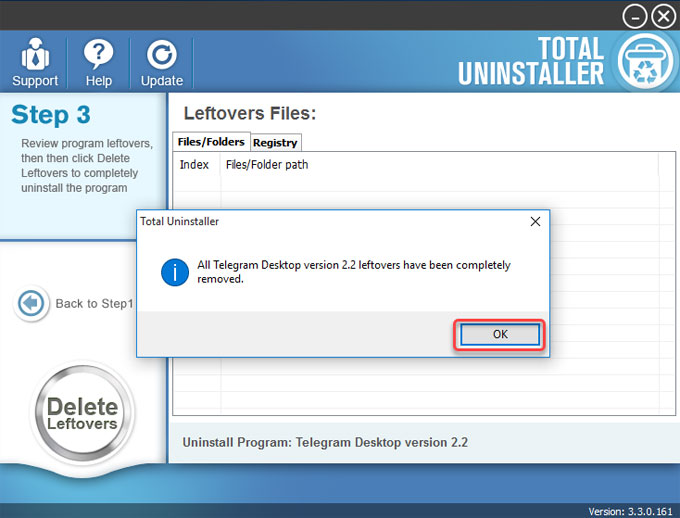 Is This Professional Total Uninstaller for You?
This Total Uninstaller is for you if...
...you have basic Windows program removal knowledge and want a deeper cleaning of junk files after a program uninstall
...you're a Windows beginner
...already worked quite a bit with Windows-based computer but want to deeply clean unwanted things when you uninstall a program
...you're a complete Windows novice and you want to uninstall Telegram complete using a technical uninstaller tool
...you're looking for a professional method to remove any unwanted programs without any efforts and hassles.
Conclusion
All the two methods will be right for you to uninstall Telegram and use to clean out any undesired Windows programs effortlessly. At the end of the removal guide, you will know how to do simple uninstall of any unwanted programs, get rid of junk files, and automatically remove all components thoroughly. If you would like to see in detail what a professional uninstaller does, you can download Total Uninstaller below and give it a try right now.
So what are you waiting for? Take this Total Uninstaller tool and use it to clean out programs you would like to uninstall completely, all in easy and professional way!