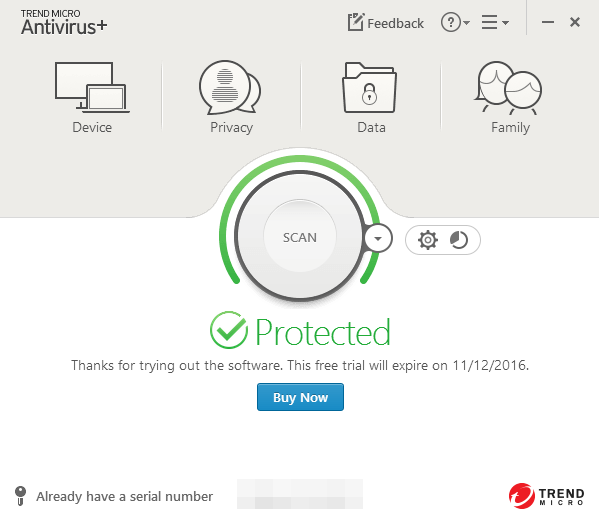 Trend Micro Antivirus+ is a security software that offers protection against online threats for Windows PCs. It includes many tools like spam filtering, firewall booster and ransomware protection. This program gets decent scores in lab tests, but it also comes with a few false positives. Anyway, since you come to this page, you might be considering to uninstall Trend Micro Antivirus+ and switch to another antivirus product. The question is: how to thoroughly remove this program from your PC?
Possible cause why users try to uninstall Trend Micro Antivirus+:
Users want to perform a totally fresh installation of Trend Micro Antivirus+;
Trend Micro Antivirus+ has been corrupted and cannot function properly;
Trend Micro Antivirus+ is conflicted with other installed software or hardware;
The Premium version installation requires a complete uninstall of basic version;
It takes up large amounts of disk space and strains system memory & processor.....

No matter for what reason you decide to uninstall Trend Micro Antivirus+, you may be faced with some typical problems, like Windows Control Panel fails to bring up Trend Micro Antivirus+ uninstall wizard, uninstall process is interrupted or stopped for unknown reasons, or stubborn components cannot be removed from your system.
Now let's start the uninstallation with the feasible solutions provided below.
3 Steps to Thoroughly Remove Trend Micro Antivirus+
Average user can take conventional means to manually get rid of Trend Micro Antivirus+, but the whole process can be time-consuming & risk-taking. So to save your time as well as avoid troubles, we first introduce a all-in-one solution to help you uninstall Trend Micro Antivirus+ (or any stubborn, problematic, malicious programs).
Total Uninstaller is a handy tool designed for both novice and experienced users to resolve various uninstall issues.Wanna remove Trend Micro Antivirus+ without causing any hassle?You just need to take 3 simple steps: select > uninstall > confirm. Watch the video clip to have a direct experience on its simplicity & effectiveness.
[Video Tutorial]
Here are the steps to uninstall Trend Micro Antivirus+ with Total Uninstaller:
Deactivate Trend Micro Antivirus+ completely, and then launch Total Uninstaller.
Click on Trend Micro Antivirus+ icon, and click the Run Analysis button to proceed.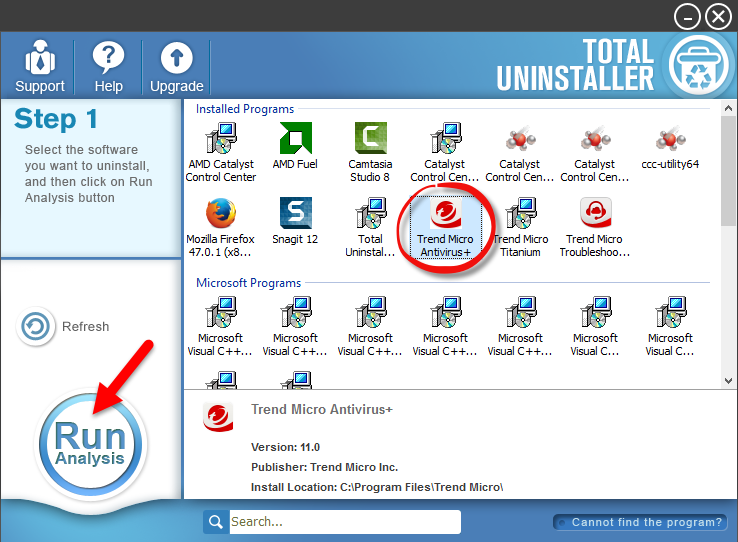 Click Complete Uninstall after all the components have been scanned out.
Click Yes in the pop-up dialog and follow prompts to complete the uninstall.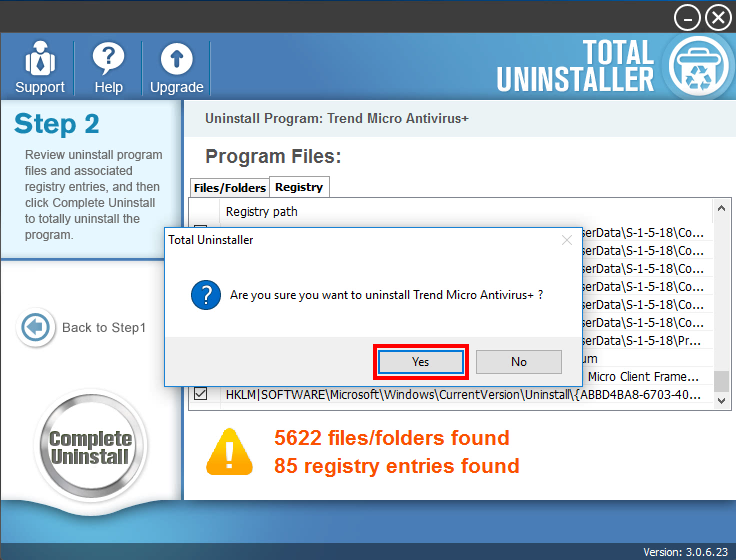 Click Scan Leftovers and then Delete Leftovers to perform thorough removal.
Click Yes to confirm the request, and then click OK when the deletion is finished.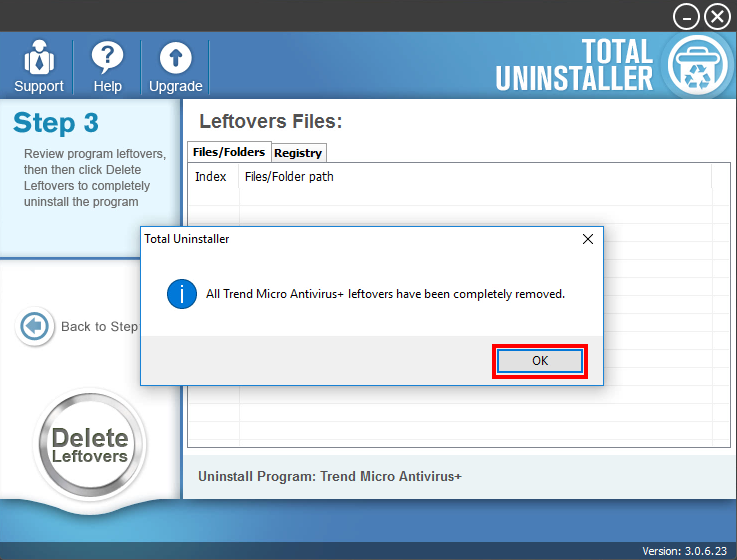 After the uninstall is complete, click on the "Back to Step 1" button. Total Uninstaller will scan your PC again and list current installed programs. As you can see in the video, Trend Micro Antivirus+ has gone from the interface, as well as your system.

Conventional Means to Uninstall Trend Micro Antivirus+
Still insist to uninstall Trend Micro Antivirus+ without using a professional uninstaller? Then take the conventional method to manually delete this program and its leftovers.
If Trend Micro Antivirus+ is running, you will need to totally turn it off prior to the uninstall (right click on its icon in system tray and choose Exit option from the menu).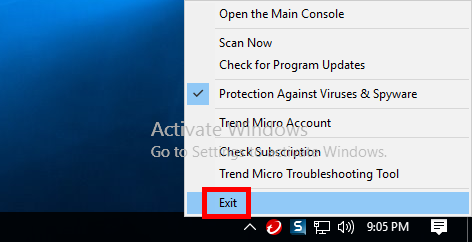 Moreover, you can forcibly deactivate all its related processes via Task Manager.
Right click the taskbar at the button and select Task Manager option.
Select the process(es) pertaining to Trend Micro Antivirus+ and then click End Task.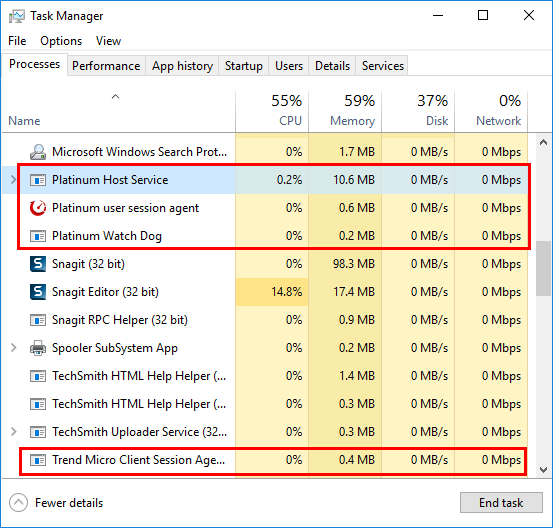 Removal part 1: Uninstall Trend Micro Antivirus+
Once a program is installed properly, you can easily uninstall it through the Control Panel. For different Windows OS users, the uninstall operations are slightly different.
On Windows 7 :
Access Control Panel from Start menu, and click Program in the Control Panel.
Scroll through to select Trend Micro Antivirus+, and then click Uninstall button.
On Windows 8/10:
Right click Start icon and select Programs and Features from the list.
Locate Trend Micro Antivirus+, and double click on it to start the uninstall.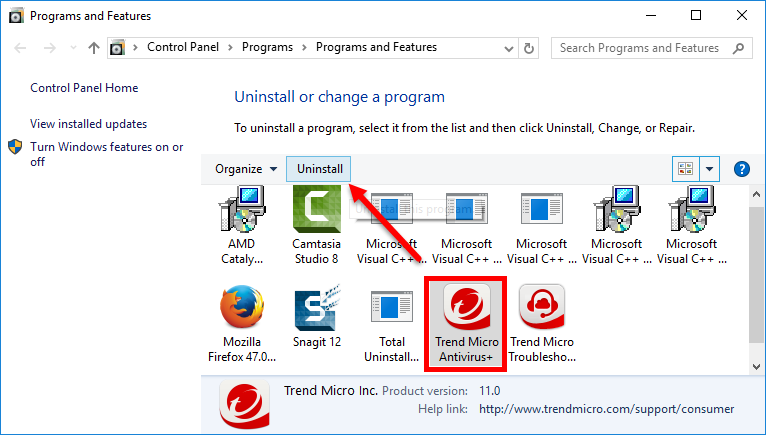 Besides, Windows 10 also provides another option to uninstall installed programs:
Head to the Start menu > Settings to open the Settings app.
Select Apps & Features from the left hand to list installed programs.
Select Trend Micro Antivirus+ from the right hand list, and click on Uninstall twice.

That kind of antivirus software typically has their own dedicated uninstall program. To verify that, you can right click on the Trend Micro Antivirus+ shortcut, choose Open File Location and then navigate to the installation folder. In our test, the executive file named Remove is identified as its default uninstaller. So double click to run this file, and follow the onscreen instructions to complete the uninstallation.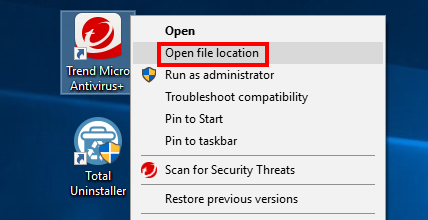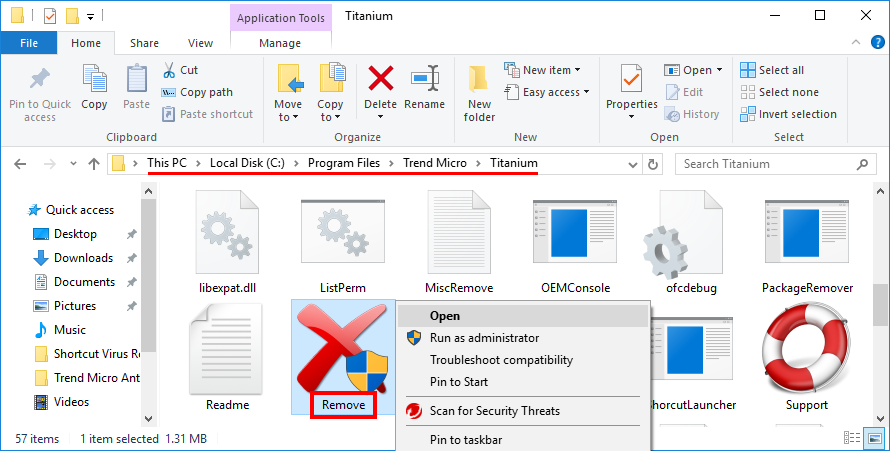 Click Uninstall button in the Trend Micro Antivirus+ wizard that pops up.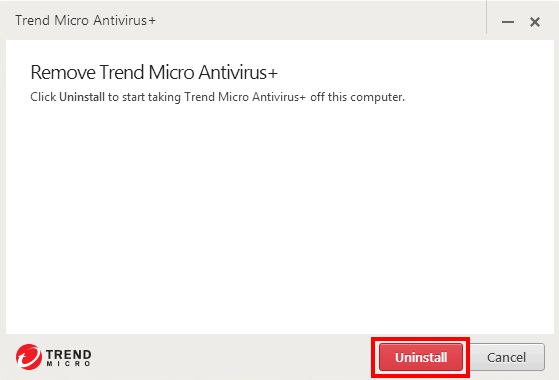 Once the uninstall is complete, click Restart Now button to reboot your PC.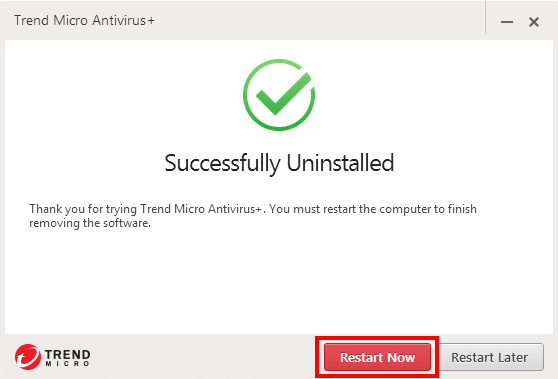 Uninstall Tip: What if Trend Micro Antivirus+ cannot be uninstalled by these manual steps? That might happen when the program has been corrupted, or when some executive files are missing. If so, try to re-install Trend Micro Antivirus+ to cover corrupted/missing files, and then uninstall Trend Micro Antivirus+ in Safe Mode.

Removal part 2. Delete Trend Micro Antivirus+ Residuals
We have to say that, the standard uninstall shown above will not help you get rid of all the Trend Micro Antivirus+ components, as those invalid files or folders still remain around your system. That's why some users get alerts and pop-ups from Trend Micro after Antivirus+ has been uninstalled from the Control Panel. To keep your PC at its peak performance, don't forget to remove those useless program components.
(1) Invalid keys/values in registry
Go to Start > Run, type "regedit" and hit Enter to launch Registry Editor.
Click Yes if you are prompted to give confirmation in UAC dialog.
Press Control + F together to open Find box, and then type Trend Micro Antivirus+.
Hit Enter (and then F3) to locate the entries associated with Trend Micro Antivirus+.
Right click on the keys or values and choose delete option in the list.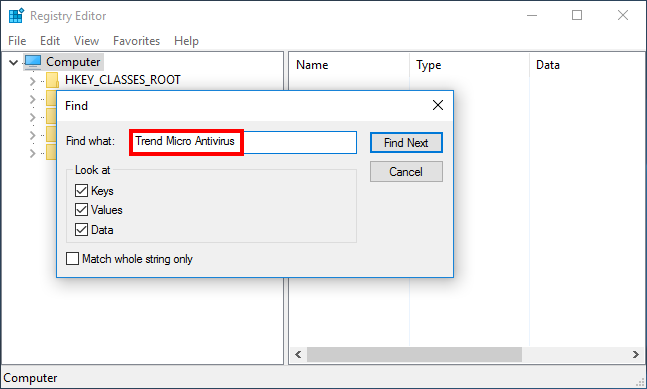 Warning: Misusing the Registry Editor can render your system unstable or even inoperable. For added protection, back up the registry before you modify it. Then, you can restore the registry if a problem occurs. If you wanna keep your Registry organized & clean without taking any risk, try Total Uninstaller to get the job done.
(2) Junk files/folders in hard disk
Head to Start > Control Panel > Folder Options, and then select the View tab.
Check the "Show hidden files and folders" in Advanced settings and click OK.
Click This PC on the desktop (or press Windows + E ) to open File Explorer.
Type Trend Micro Antivirus+ in the Search Bar and wait a few seconds.
Identify Trend Micro Antivirus+ leftovers in the result and delete them permanently.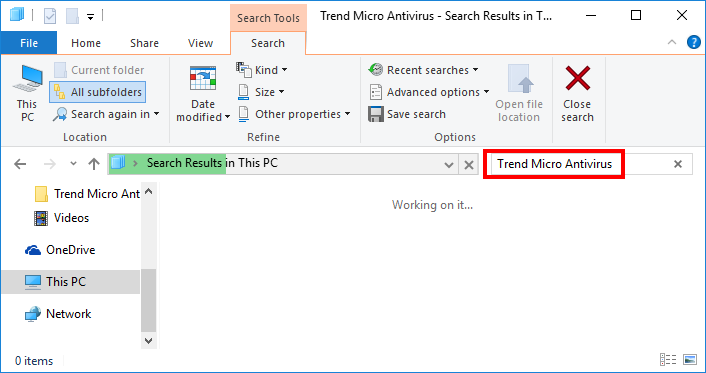 After all these steps you should have removed Trend Micro Antivirus+ on your PC.
To be honest, if you need to uninstall programs frequently, adopting the standard approach may be quite troublesome and laborious. A truthworthy and efficient uninstaller will be a better choice to help you get rid of programs effortlessly, especially when you are faced with stubborn, problematic and malicious software.

Run into troubles when uninstalling programs? Try Total Uninstaller to resolve removal issues & ensure a clean uninstall. You'll be satisfied with its performance.