Usually manage your drivers with Driver Genius but need to remove it now? These how-to guides will tell you more information about this app as well as the complete way to remove Driver Genius from Windows.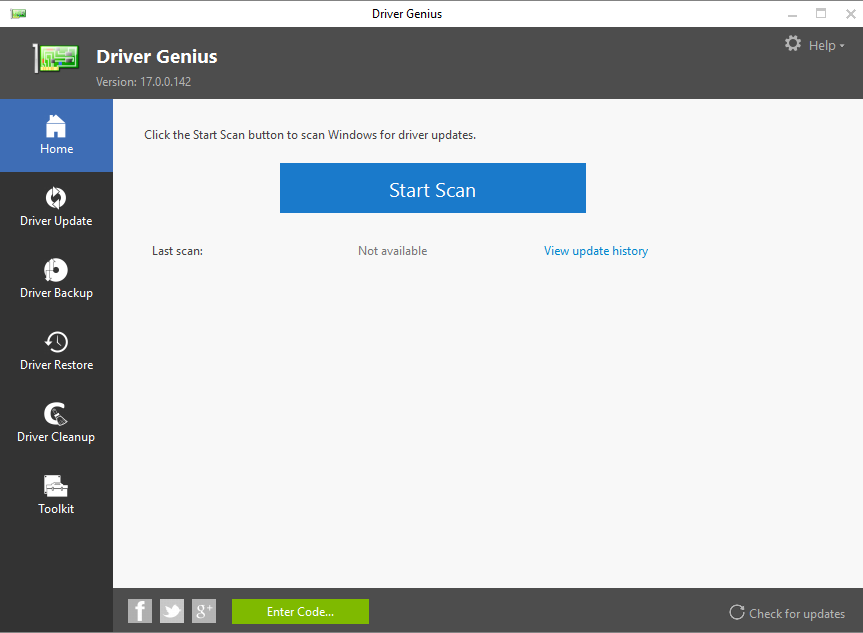 Driver Genius is a driver software developed by Driver-Soft Inc. It supports users to update, backup, restore and cleanup their drivers effectively, and also provides several toolkits for additional feature and utilities. Some people find their security programs detected it as a malware or a kind of virus, don't worry, if you really worry about it would harm you PC, you can also choose to fix the problem via uninstalling it from the computer.

More installed details of the software
Homepage: www.driver-soft.com
Installation directory by default: C:\Program Files\Driver-Soft\DriverGenius\ (some people might change it when installing the app)
App's own uninstall process: C:\Program Files\Driver-Soft\DriverGenius\unins000.exe
To perform the Driver Genius removal on PC, yon can choose the Windows uninstaller or the app's uninstall process to clean it manually, or inviting an affordable uninstaller to uninstall the program more quickly and thoroughly.
Three optional ways to remove Driver Genius from Windows
Windows uninstaller: clean it manually from PC
Stop Driver Genius running on the PC
Right-click on the Windows(Start) icon at the bottom left corner on the desktop, and select Programs and Features
(If you cannot find this item, please click on the Windows icon > select Control Panel >>> Programs and Features)
Choose Driver Genius on the list of installed application, and click on the Uninstall button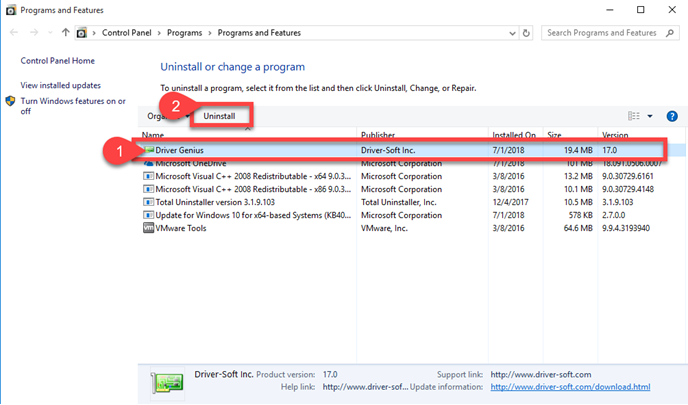 Click Yes when you receive a message which ask you to make sure about the removal

The removing process will then be launch, and you should wait for it get finished
Click OK when there is a message telling you that the Driver Genius has been removed successfully

Exit the Windows uninstall panel, and restart the computer system
Since the Windows uninstaller usually cannot get a 100% removal for the unwanted program, and leave some files and registry keys on the PC. In order to confirm that the program has been thoroughly removed from the PC, you should check the associated installed folder as well as the System registry, and make sure all of components have been removed thoroughly.
After restart the PC, Go to check the associated folder have been removed, please manually remove them when some related files/data still can be found
Click on Search on the start menu, and type "regedit"
Choose to open the regedit or Registry Editor on your PC, and delete those registry entries belonging to the Driver Genius

Driver Genius's uninstall process: remove the program by yourself
Right-click on Driver Genius's shortcut on the desktop, and select "Open file location" on the menu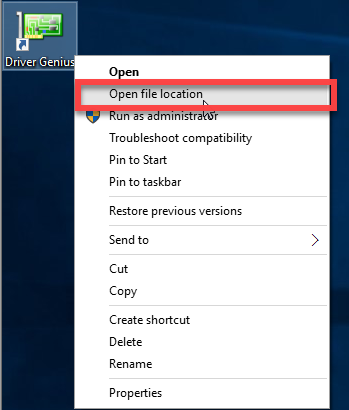 Find and launch its uninstall process which usually named unins000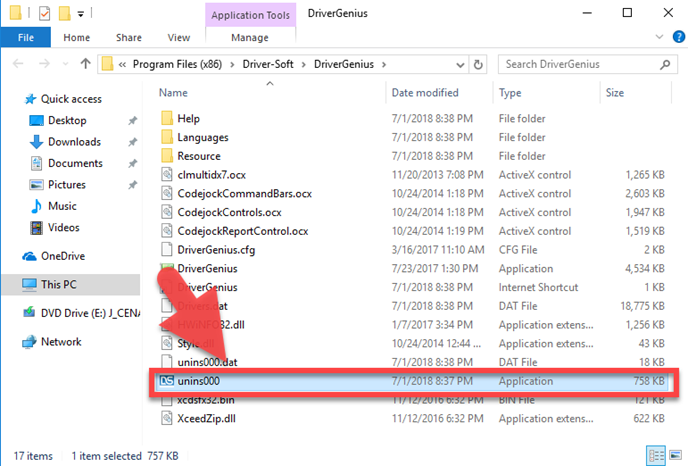 Click Yes to confirm the removal
Wait and click OK when it finishes to remove Driver Genius, and then go to restart the computer
Check the installation folder and Registry Editor to make sure the related components to be deleted completely
Advanced app uninstaller: remove Driver Genius more quickly and easily
Total Uninstaller is an affordable Windows app uninstaller for removing different kinds of installed program on the PC, if you encounter some problems or always take too much time to handle the app uninstallation on the PC, you can apply such a professional uninstall utility to help you perform the removal more sophisticatedly.
Launch the Total Uninstaller on the computer
Select Driver Genius on the menu of installed programs, and click on Run Analysis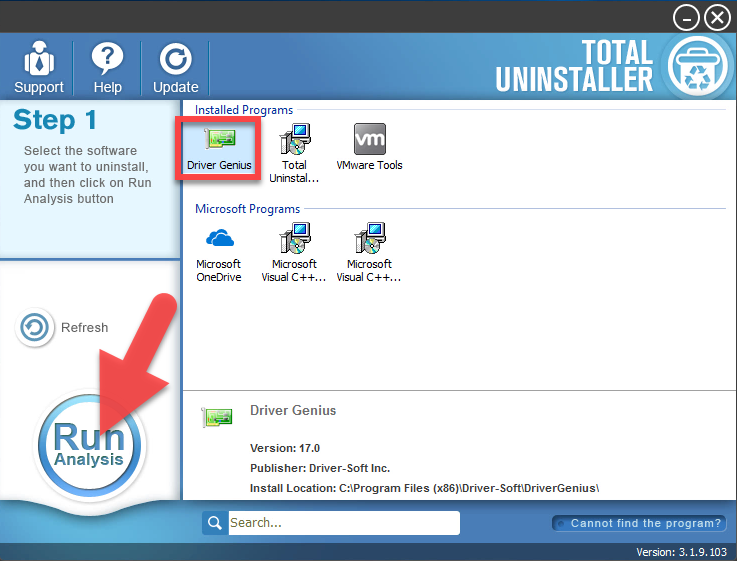 After a while, associated files and components will then be detected and listed on the menu, and please click on the Complete Uninstall button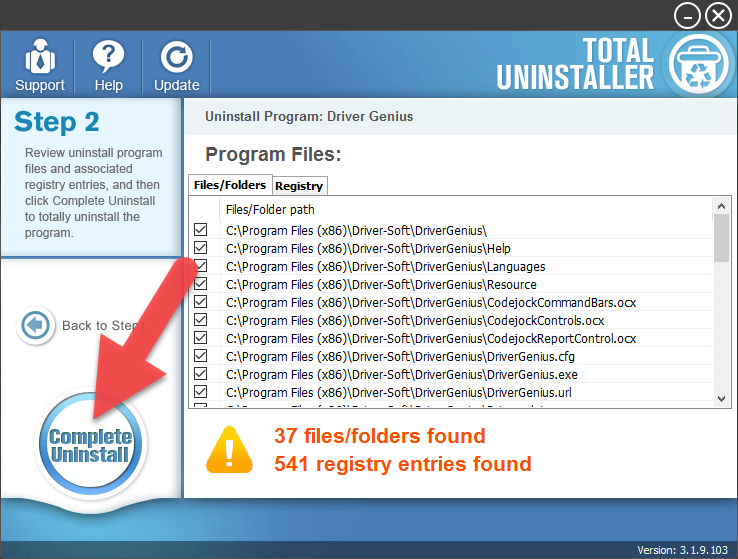 Click on Yes on the prompt, and then the uninstallation will started and completed automatically
Click on Scan Leftovers button, and delete all of detected files on the list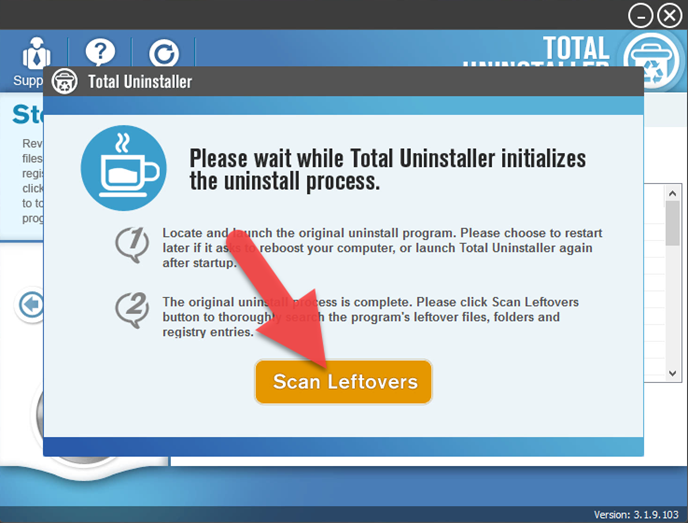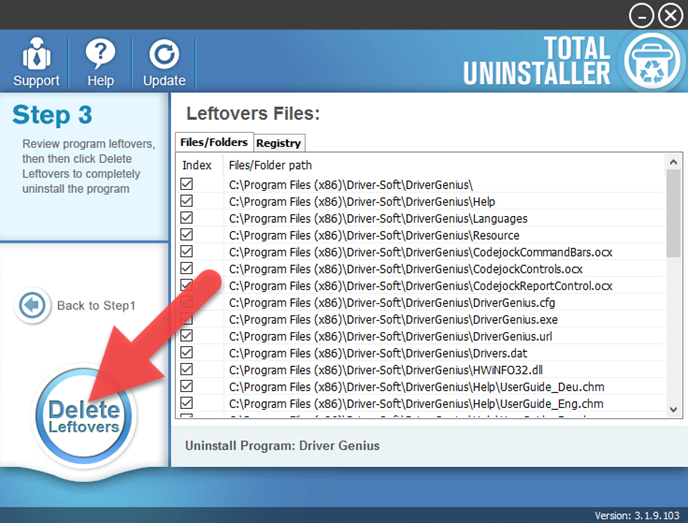 Click on OK to complete the whole removal, and then you can exit the uninstaller and restart the your computer

Download Total Uninstaller from below and perform Driver Genius removal on your PC