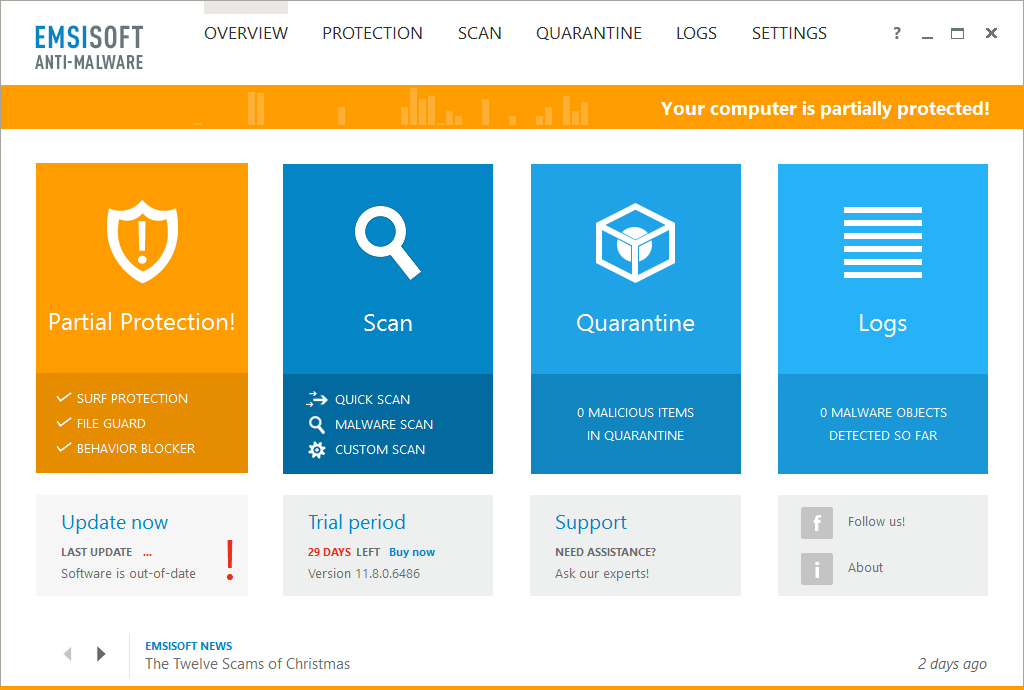 "What is the exactly proper way of uninstalling Emsisoft Anti-Malware?"
"How to detect and delete program leftovers hiding deep inside system disk?"
"Why does Emsisoft Anti-Malware still pop up after performing standard uninstall?"
Emsisoft Anti-Malware Uninstall Issues
Emsisoft Anti-Malware is a malware scanner that uses two major engines ((Emsisoft's own one + BitDefender antivirus) to clean and protect your PC from viruses, spyware, trojans, bots, adware and worms. Since that kind of antivirus software is well integrated with your system, you will need to do more to fully uninstall Emsisoft Anti-Malware. Only uninstalling it from the list of installed programs cannot enable you to totally get rid of all its components. You may be faced with those issues:
Emsisoft Anti-Malware cannot be found in the list of installed programs.
Windows built-in uninstall applet fail to bring up the program uninstall wizard.
Uninstalling process has been interrupted or stopped due to unknown error.
Emsisoft Anti-Malware leftovers are hard to detect or cannot be deleted......

The article focuses on one question: how to uninstall Emsisoft Anti-Malware perfectly? We present two removal approaches here to assist you in uninstalling Emsisoft Anti-Malware properly. You can either run an automated uninstaller to handle the task painlessly, or take the traditional method to manually remove target program.
Method 1: Uninstall Emsisoft Anti-Malware Effortlessly
First of all, we would like to introduce the quickest and easiest way to help you uninstall Emsisoft Anti-Malware. As a lightweight yet powerful program, Total Uninstaller only takes 3 simple steps to fully uninstall any unwanted program on your machine, and its intuitive interface will guide you through the uninstallation process at ease. With it in hand, all you need to do is to click-click-click, and the job is done!
Step 1. select target program
Completely deactivate Emsisoft Anti-Malware, and then launch Total Uninstaller.
Click Emsisoft Anti-Malware icon on the interface, and click Run Analysis button.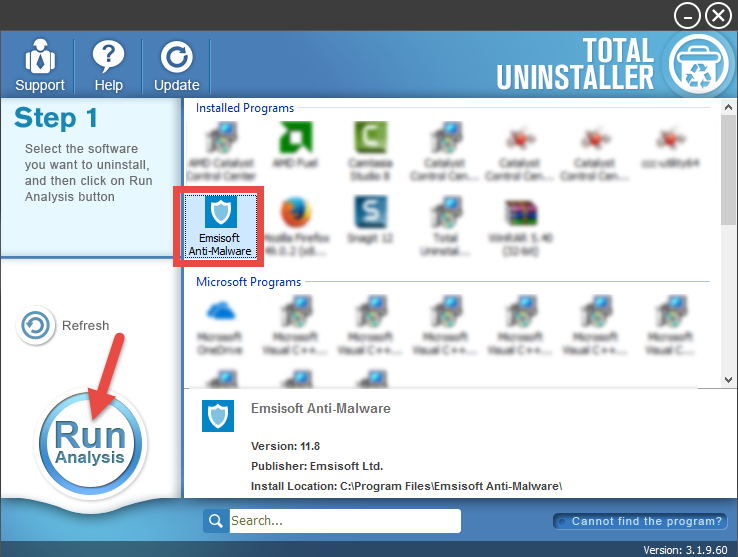 Step 2. perform the uninstall
Click Complete Uninstall after all the components have been scanned out.
Click Yes in the pop-up dialog, and then follow the on-screen instructions.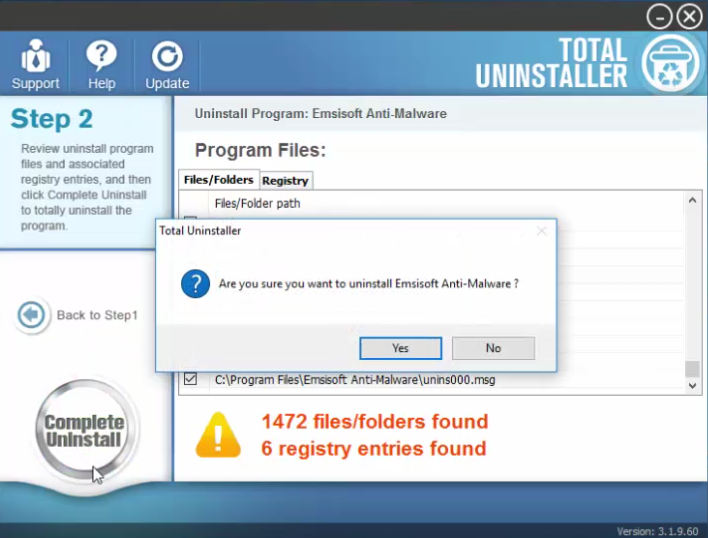 Step 3. clean out leftovers
Click Scan Leftovers and then Delete Leftovers to perform thorough removal.
Click Yes in the pop-up dialog and then OK to complete the uninstall process.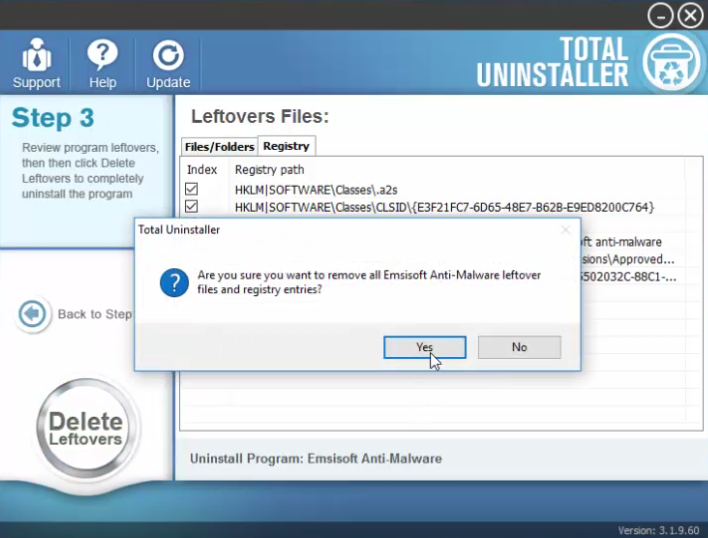 Total Uninstaller saves you from laborious and tedious work, and most importantly, you won't be troubled by any uninstall issue. This handy tool is capable of scanning out every piece of target program and forcibly removing any stubborn, corrupted,or malicious software. You will enjoy the convenience and effectiveness it brings.

Method 2: Delete Emsisoft Anti-Malware Manually
It is time-saving and hassle-free way to uninstall unwanted program using Total Uninstaller, but if you insist to uninstall Emsisoft Anti-Malware without 3rd party tool, then adopt the second approach shown below. Please follow the instructions below.
Step 1. Deactivate Emsisoft Anti-Malware
If Emsisoft Anti-Malware runs on your computer, you should first shut it down.
To do so, right-click on its icon in the system tray, choose Shut Down Protection, and enter the confirmation code in the pop-up dialog box.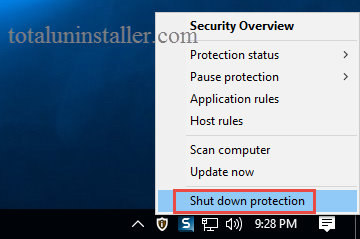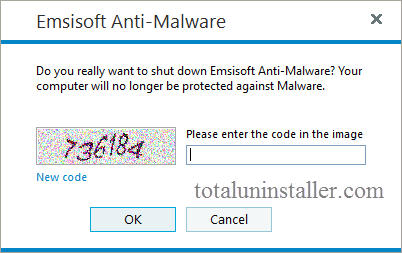 To verify if its process is running on the background, you can launch Task Manager to identify and quit related process.
Right click the taskbar at the button and select Task Manager option.
Select the processes related to Emsisoft Anti-Malware and then click End Task .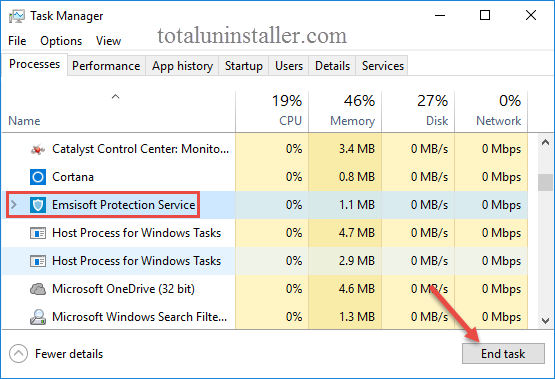 Step 2. Uninstall Emsisoft Anti-Malware
On Windows 7 :
Click Start > Control Panel, and click Uninstall a program under Programs.
Locate Emsisoft Anti-Malware, click the entry and then click Uninstall button.
On Windows 8:
Right click Start menu and select Programs & Features from the list.
Locate and double click Emsisoft Anti-Malware to start the uninstall process.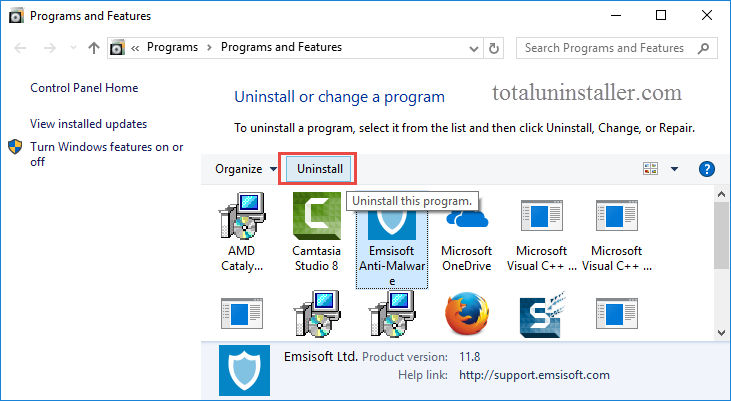 On Windows 10:
Click Start menu > Settings, and click System in the Settings window.
Click Apps & features to display all the apps installed on your system.
Scroll down to click Emsisoft Anti-Malware, and click Uninstall button twice.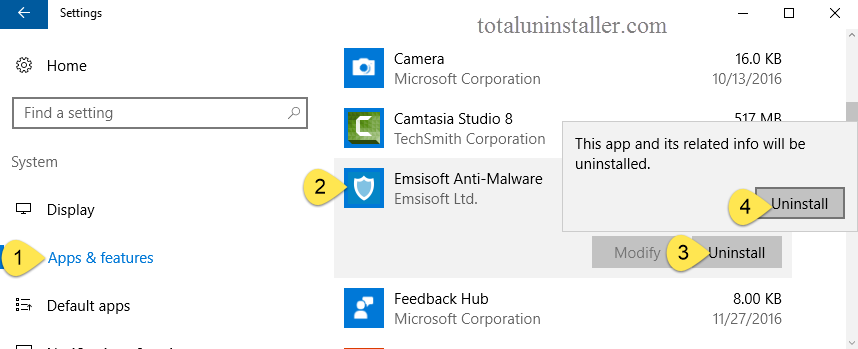 Alternative Way: Emsisoft Anti-Malware comes with its built-in uninstaller and you can find it in the installation folder. You can start the uninstall by taking this way.
Right click on the Emsisoft Anti-Malware icon and choose Open file location.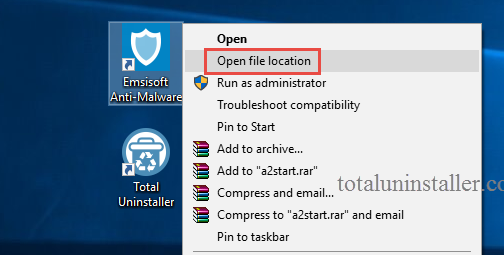 As the folder opens, locate the file named unins000.exe, and double click on it.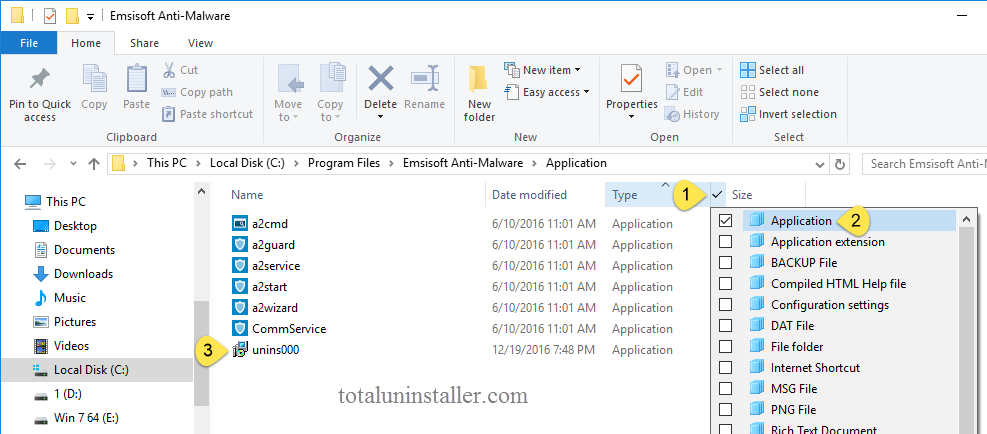 As the Emsisoft Anti-Malware uninstall wizar pops up, follow the on-screen prompts:
Click Yes to confirm the Emsisoft Anti-Malware removal, wait for a while till the uninstalling process is complete, and then click Yes to restart your computer.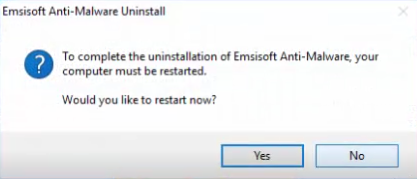 Tip: If you fail to uninstall Emsisoft Anti-Malware, try to uninstall it in Safe Mode. If the software still cannot be uninstalled, the reason may lie in the lack or corruption of executive files. In that situation, you can try to re-install Emsisoft Anti-Malware to cover missing/damaged files, and then perform the uninstall again in Safe Mode.
Step 3. Detect Emsisoft Anti-Malware leftovers
As we said before, some of Emsisoft Anti-Malware components still remain on your system disk. That is why Emsisoft Anti-Malware keeps popping up. To ensure a clean uninstall, you will need to manually detect and delete those remaining items.
(1) Windows Registry
Go to Start > Run, type "regedit" and hit Enter to launch Registry Editor.
Click Yes if you are prompted to give confirmation in UAC dialog.
Press Control + F together to open the Find box and type Emsisoft Anti-Malware.
Hit Enter (and then F3) to locate the entries associated with Emsisoft Anti-Malware.
Right click on the keys or values and choose delete option in the list.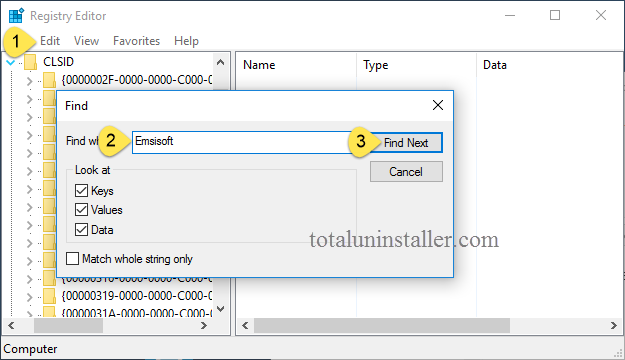 Notice: We only recommend advanced computer users to manually delete Emsisoft Anti-Malware leftovers in Windows Registry. Any improper modification may result in severe problem or even system crash. Always backup your registry before making any change there. Also, you can use a registry cleaner instead to save troubles.
(2) System Disks
Head to Start > Control Panel > Folder Options, and then select the View tab.
Check the "Show hidden files and folders" in Advanced settings and click OK.
Click This PC on the desktop (or press Windows + E ) to open File Explorer.
Type Emsisoft Anti-Malware in the Search Bar and wait a few seconds.
Identify Emsisoft Anti-Malware leftovers in the result and delete them all.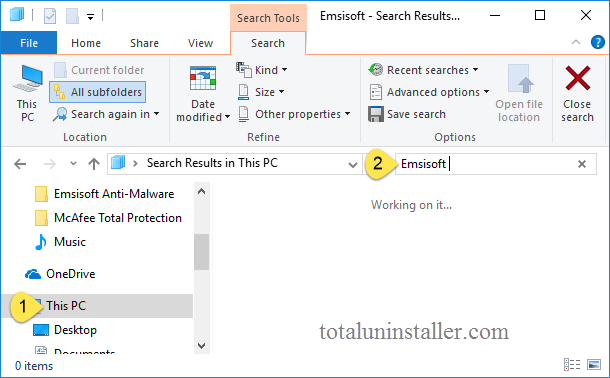 So far you finally uninstall Emsisoft Anti-Malware from the whole system. But guess what? If you fail to get rid of all the components, problems may occur, such as you cannot install another antivirus as it is in conflict with Emsisoft Anti-Malware traces.

If you are tired of carrying out complex uninstall method, and you wish to uninstall Emsisoft Anti-Malware as easily and quickly as possible, give Total Uninstaller a try.