Are you worrying about that you no longer can use the Jing screen casting tool due to Adobe Flash stops developing? How to Uninstall Jing screen casting tool and get the new and modernized TechSmith Capture installed? In this post, you will know more about how to Uninstall Jing from your Windows computers completely. Are you ready to have a try?
Tips: Click the below button to download a professional uninstaller tool so that you can clear our all things about Jing with ease, including leftover files, folders, and registry entries.

TechSmith Capture (Formerly Jing) Overview
TechSmith Capture is a screen casting tool formerly named as Jing; people can download it from the official website TechSmith. This tool is intended for making people's screen captures and screen recordings simple to create. However, due to the imminent discontinuation of Adobe support, it is impossible that Jing continues using .SWF Flash video format in the future. According to this point, TechSmith provides a new and modernized screen casting and video capture tool to replace Jing. However, if you are still looking to use Jing, you can download it on TechSmith.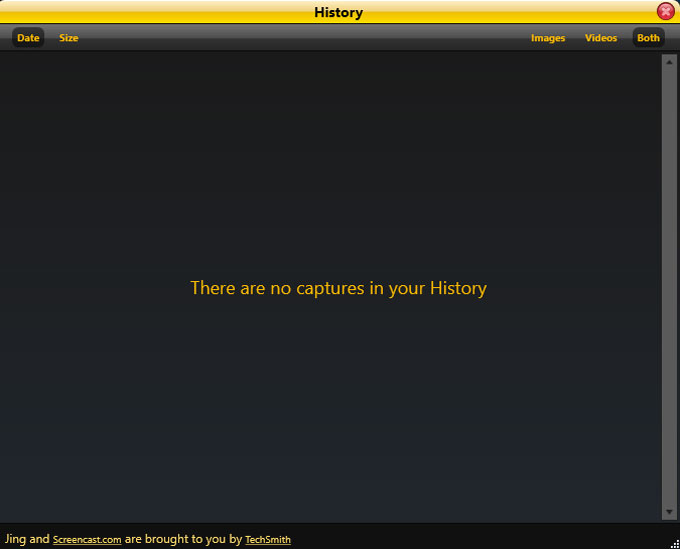 Or if you are looking to download the latest release of TechSmith Capture and uninstall the old version of Jing, you will discover a way here.
How to Uninstall Jing for Windows Computer?
Wondering how to uninstall Jing from your Windows-based PCs? Are you struggling to remove all leftovers of Jing thoroughly? The 2 methods here will help you know what you need to do to remove the Jing software successfully.
Method 1: Uninstall Jing Using Manual Way
1. Open Task Manager to exit the TechSmith Jing software, and close all its process in the background.
Right-click the Start menu > click Task Manager > Click Jing software > click End task or process.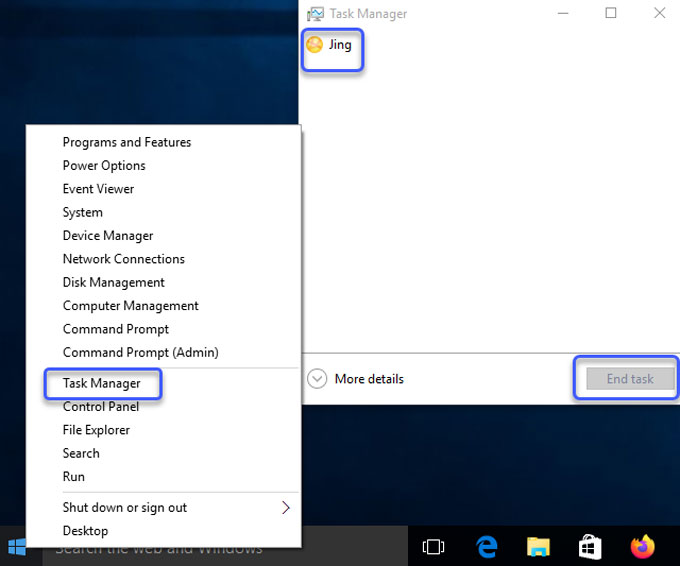 2. Right-click Start menu > click Control Panel > click Uninstall a program.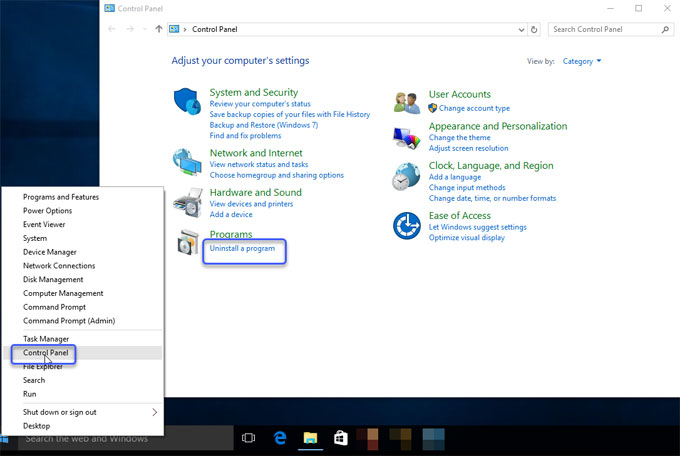 Highlight on the Jing software > right-click Jing > click Uninstall.
3. Click Remove to make sure that you want to uninstall Jing from your computer. Wait for a minute and the Jing software will be installed by this way.
4. Right-click Start menu > click Run >enter regedit in Open box > click OK to open the Registry Editor window.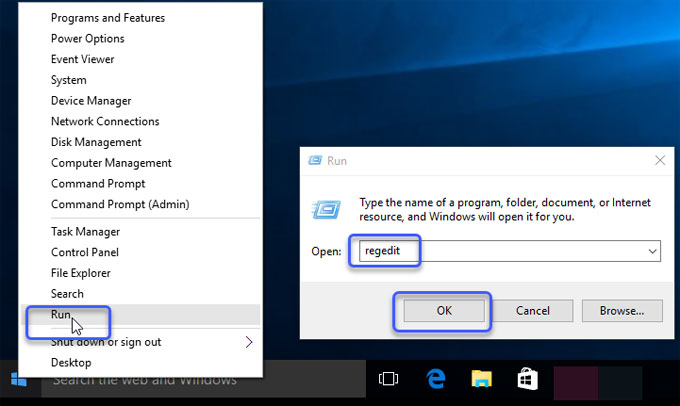 5. When the Registry Editor window opens, you need figure out leftovers of Jing there and delete them for a complete cleaning. Click Edit > Click Find >Enter the Jing software pathname to find the left files, folders and entries. However, you should be careful when delete a left entry, any wrong deletion may lead to some troubles.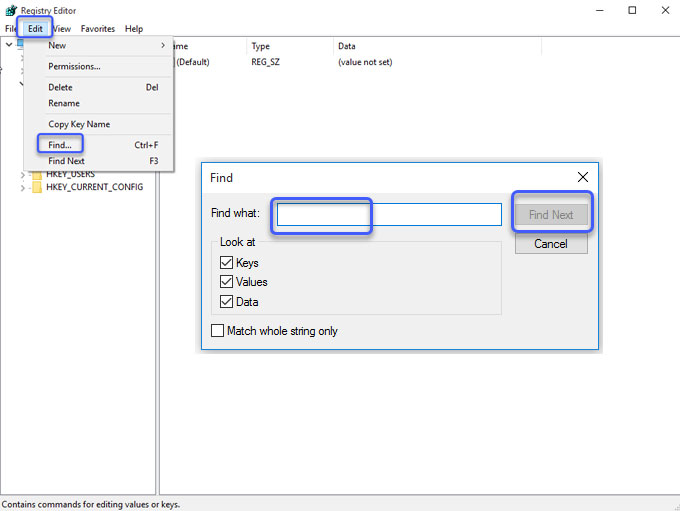 Method 2: Remove Jing Using Total Uninstaller
In this way, we will use the professional uninstaller tool named Total Uninstaller to show you how to uninstall Jing with it. This tool is made for anyone who is unfamiliar with uninstalling a program by their own hands. And if you're ready to use Total Uninstaller tool and get started now, refer to the second way here. Step by step instruction included.
1. Launch Total Uninstaller on your computer > Click on the Jing  software> Click Run Analysis.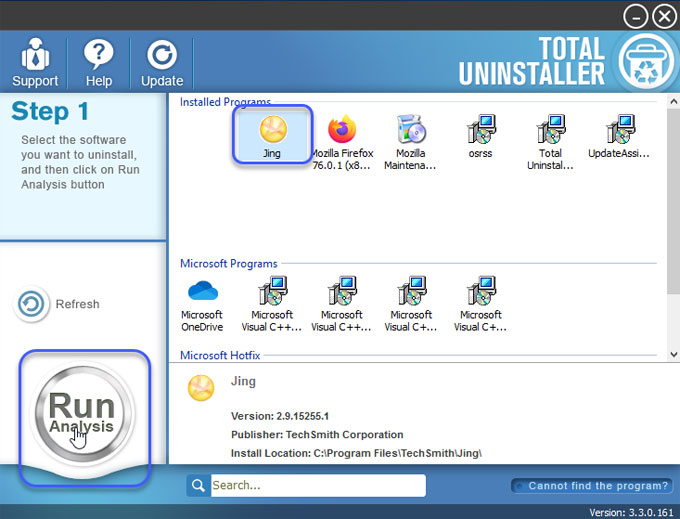 2. Click Complete Uninstall > Click Yes to make sure that you wish to uninstall Jing screen casting software.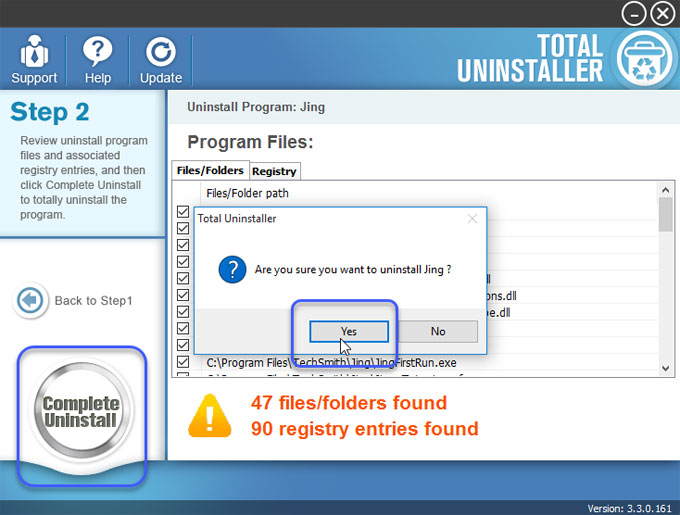 3. In the next Jing Setup window, you can select the maintenance operation to perform.Click Remove to uninstall Jing from your computer > click Next.
4. In the Jing uninstall window, you need to click the Next button to make sure that you want to remove the application.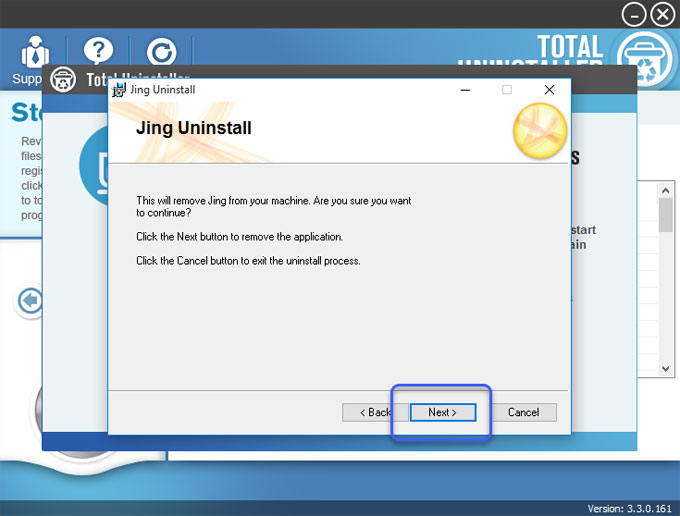 5. The Jing software has been successfully removed. Click Finish to continue the next step.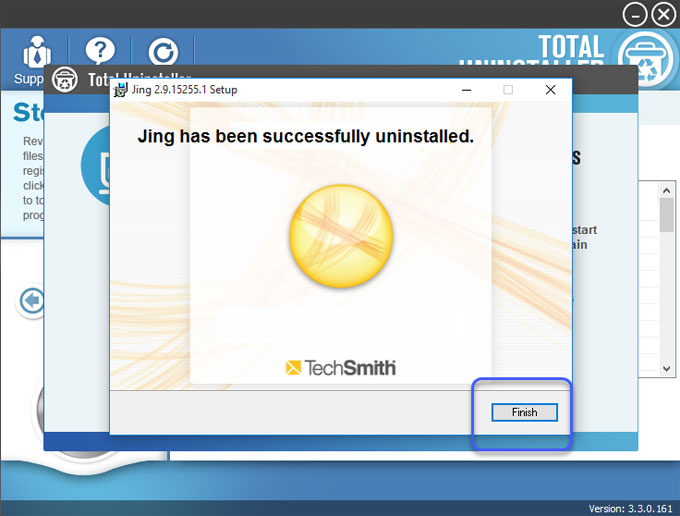 6. Click Scan Leftovers.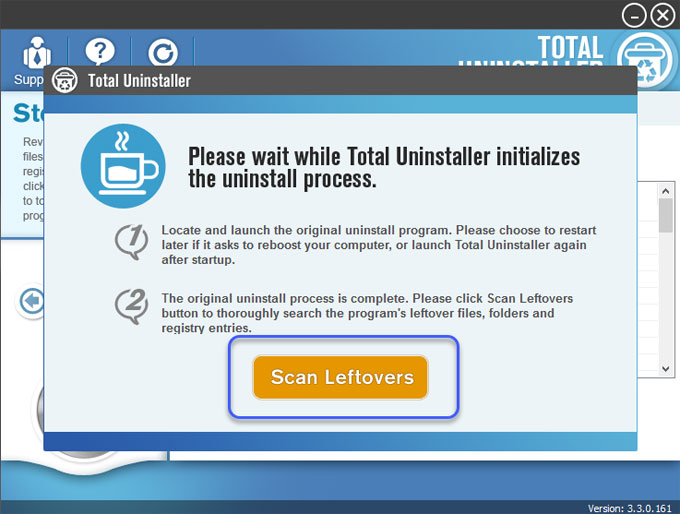 7. Click Delete Leftovers > click Yes to be sure you want to clear out all leftovers of the Jing software.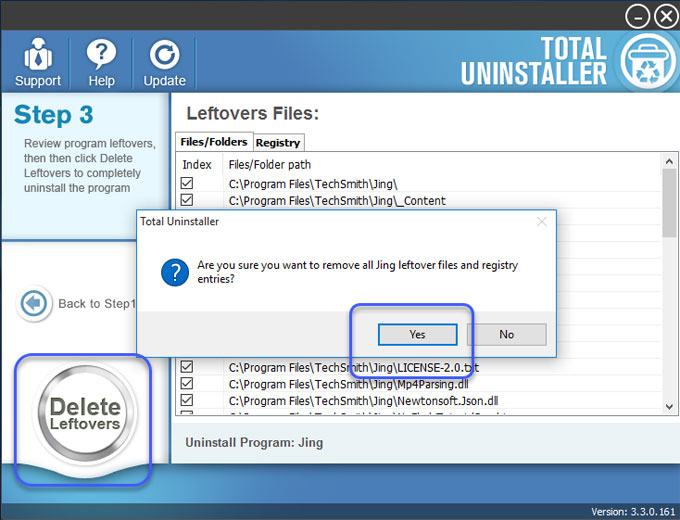 8. Click OK to exit the window. You also can click the Back to Step 1 option to check. After that, restart your computer.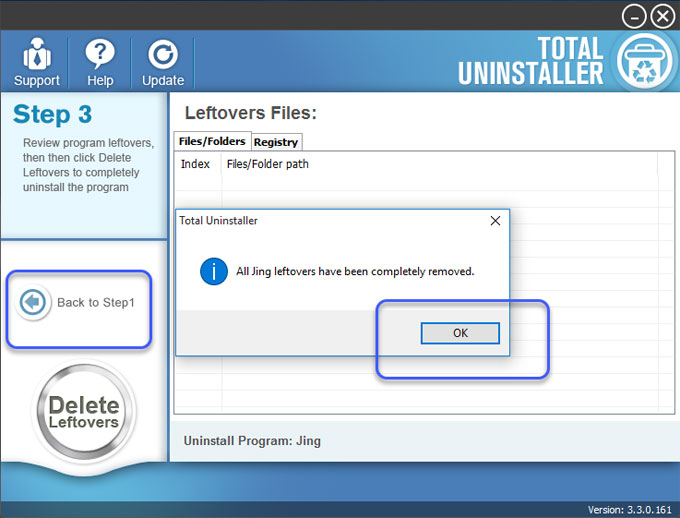 Video guide:
Refer to the video guide on how to use Total Uninstaller tool to uninstall Jing completely here.

Conclusion
If you're one of those people who want to uninstall Jing and get the new TechSmith Capture, here is a right place to get started. At the end of this guide, you will know how to uninstall Jing by your own hands or a professional uninstaller tool.
If you prefer using a professional uninstaller tool, you can click the download button to install Total Uninstaller on your computer. It will help to clear out all things of Jing just in a few of clicks.