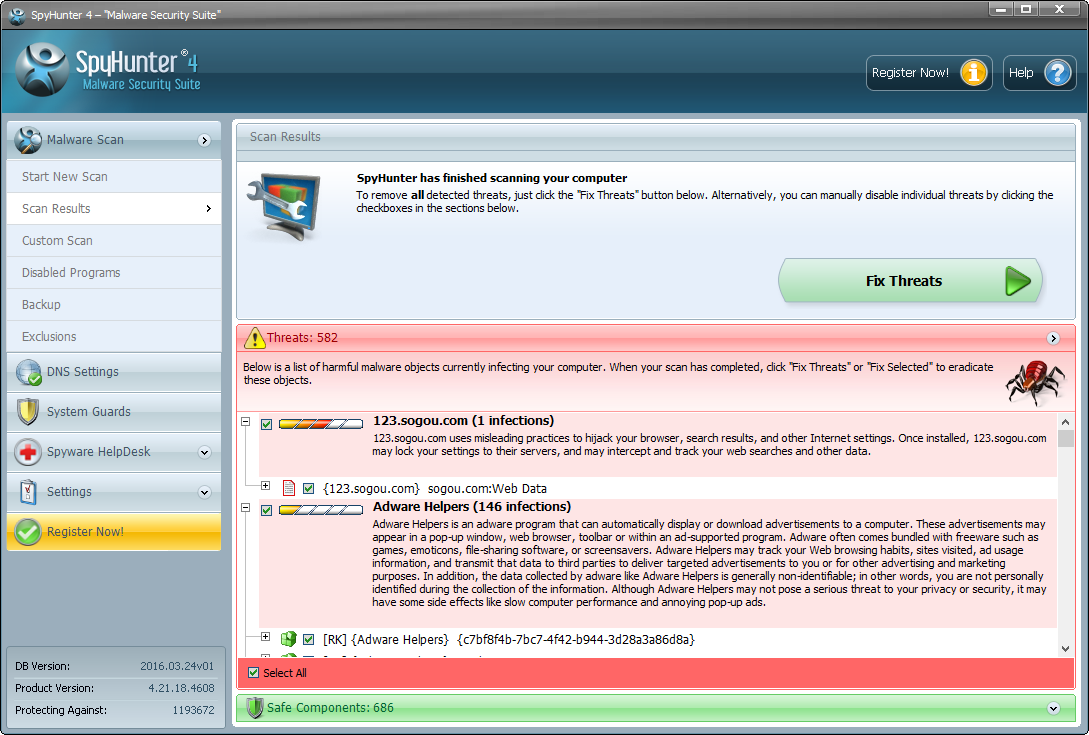 Things you should know about SpyHunter 4
SpyHunter 4 is a anti-spyware application designed by Enigma Software, claiming to give you optimal protection with limited interaction. It says to detect, remove and protect your PC from malware attacks, and that the malware threat definitions are updated daily. However, SpyHunter 4 got many negative reviews on the Internet, and many users express their doubts about this program. Some point out that SpyHunter 4 sneaks into their PCs without permission, and others complain about its misleading scanning results, or the asking for extra money after a full-paid version. Some antivirus have rated SpyHunter 4 as a questionable program or potentially unwanted program. So if you have installed it, we suggest you to uninstall it right now.
You should know that, uninstalling SpyHunter 4 from the list of installed programs does not mean you can fully get rid of it. Some of its associated components still remain around the system. Here are the uninstall troubles you may encounter:
SpyHunter 4 does not appear in Windows installed program list.
Add/Remove Program applet fails to launch the uninstall wizard.
Error message jumps out to interrupt or stop the normal uninstall process.
SpyHunter 4 keeps popping up after the standard uninstall is completed...

Have not idea how to resolve these uninstall problems? Wanna cast off SpuHunter 4 as easy as posible? In this tutorial we will show you two effective methods to uninstall SpyHunter 4. Read on to learn some tricks on program removal.
Part 1: Uninstall SpyHunter 4 in Just a Few Clicks
If you prefer to save time/energy in uninstalling SpyHunter 4, we recommend you to try this handy tool first. Total Uninstaller is a lightweight yet effective remover designed for all level Windows users. Its intuitive interface will guide you through the whole removal of SpyHunter 4 automatically. Watch the video provided below, and you will have a direct experience how fast and easy the uninstall process can be.
Turn off all SpyHunter processes, and then launch Total Uninstaller.
Click SpyHunter 4 and click Run Analysis to proceed.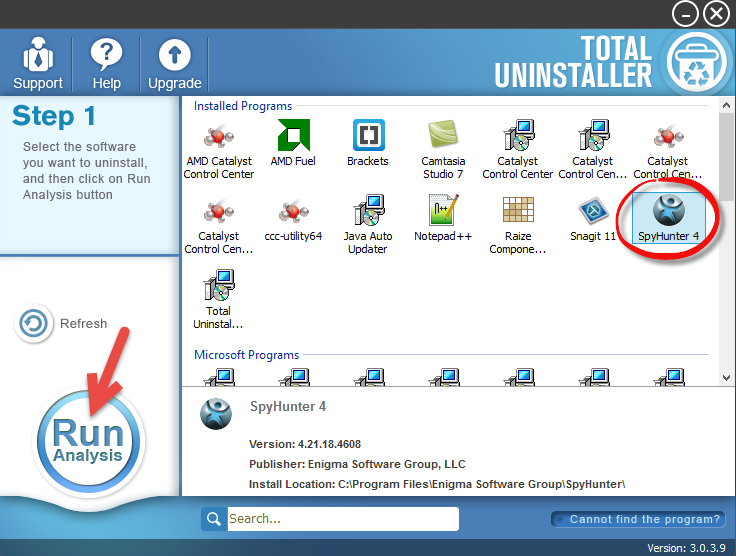 Click Complete Uninstall after all the components have been scanned out.
Click Yes in the pop-up dialog and follow the prompts to complete the uninstall.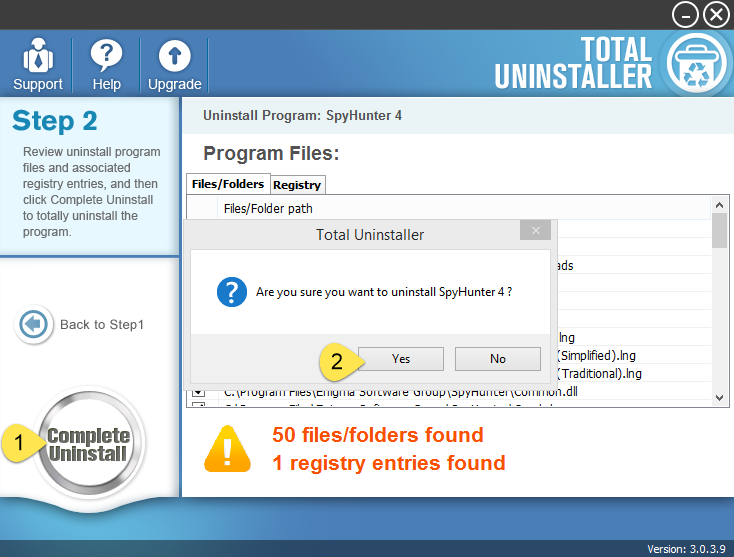 Click Scan Leftovers and then Delete Leftovers to perform complete removal.
Click Yes in the dialog and then OK to end SpyHunter 4 removal.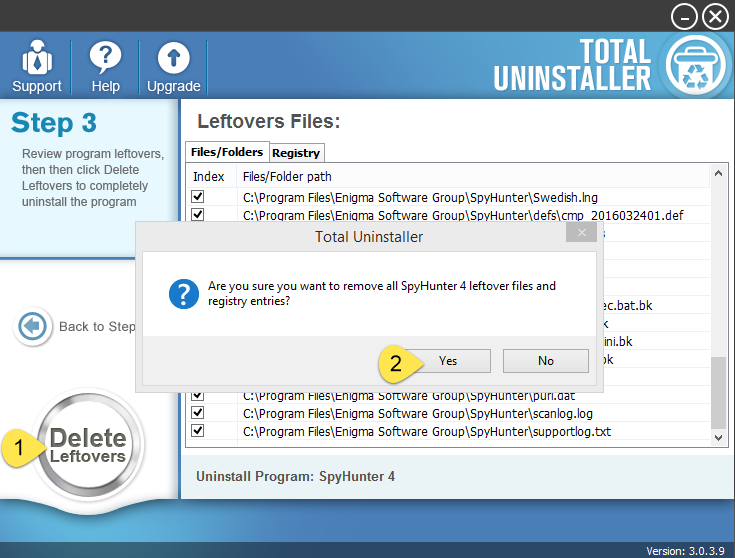 Video Tutorial - How to Fully Remove SpyHunter 4
See? SpyHunter 4 can be thoroughly removed from your system in a few clicks. This removal tool enables you to get rid of any problematic, corrupted, or malicious program. No stubborn trace left, and no extra work needed. Incredibly simple.

Part 2: Conventional Steps to Remove SpyHunter 4
Here is the standard way to uninstall SpyHunter 4 without 3rd party software. You should log in with your administrator account, and then follow the instructions below:
Step 1. Turn off SpyHunter 4
If SpyHunter 4 is running, right click its icon and choose Exit. To make sure it has been deactivated, you can launch Task Manager to kill the background process.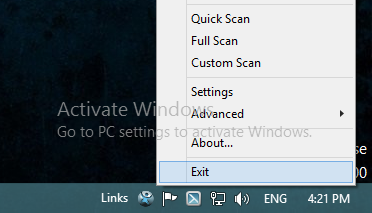 Right click the taskbar at the button and select Task Manager option.
Select the processes related to SpyHunter 4 and then click End Task .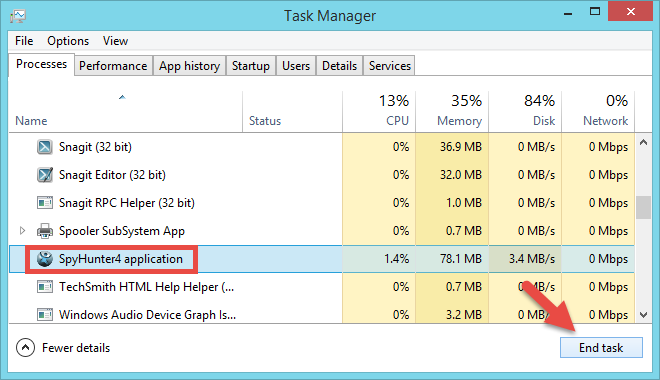 Step 2. Uninstall SpyHunter 4
On Windows 7 :
Access Control Panel from Start menu, and click Program in the Control Panel.
Scroll through to select SpyHunter 4, and then click Uninstall button.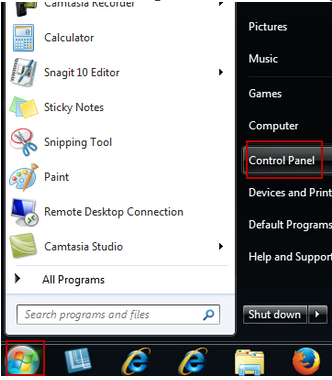 On Windows 8/10:
Right click Start icon and select Programs and Features option in the list.
Scroll down to locate SpyHunter 4, and double click it to activate default uninstaller.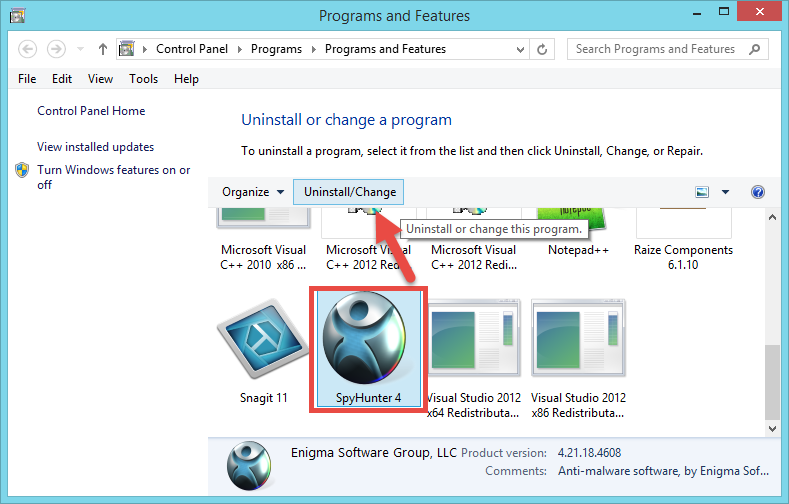 Click OK in the pop-up Enigma Software Installer window to start.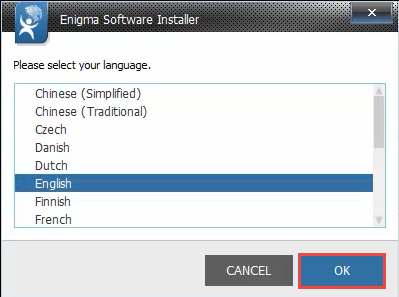 Click Yes to confirm the uninstall and wait for the process to be finished.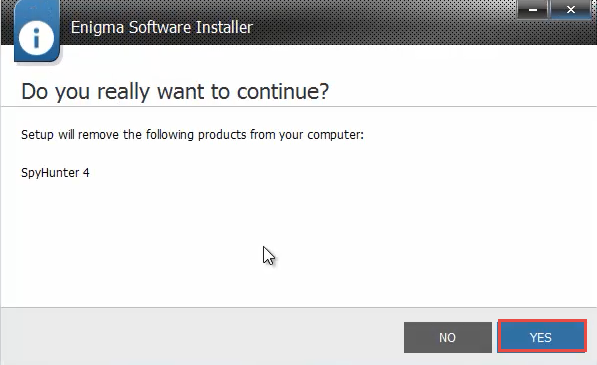 Click Reboot Now to restart your PC.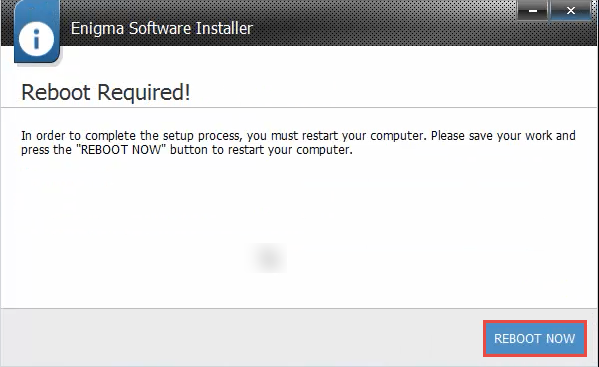 If SpyHunter 4 has been corrupted and cannot be uninstalled normally, try to reinstall it, and then uninstall it in Safe Mode.
In case the Add/Remove Programs applet fails to uninstall SpyHunter 4, you can also perform the uninstall by doing these steps:
Right click SpyHunter 4 shortcut and choose Open file location.
Navigate to the installation folder of SpyHunter 4 in the opened window.
Locate the executive file named Uninstall.exe to run the uninstaller.
Step 3. Delete SpyHunter 4 Remnants
As is mentioned above, some SpyHunter components will not be fully removed after standard uninstall, and you need to delete them manually. To fully wipe off SpyHunter 4 leftovers from your system and especially Windows Registry, do the followings:
(1) Invalid keys/values in registry
Go to Start > Run, type "regedit" and hit Enter to launch Registry Editor.
Click Yes if you are prompted to give confirmation in UAC dialog.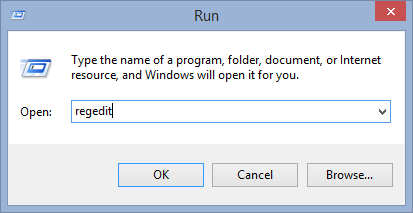 Press Control +F together to open the Find box and then type SpyHunter 4.
Hit Enter (and then F3) to locate the entries associated with SpyHunter 4.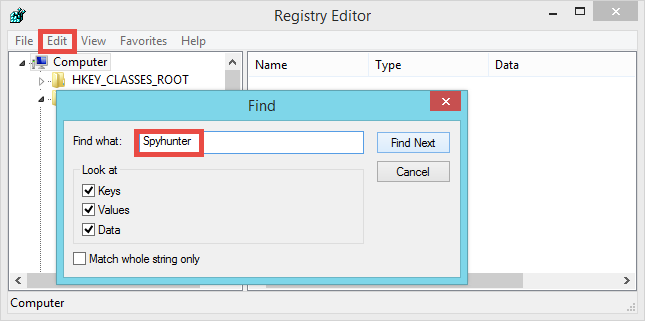 Right click on the keys or values and choose delete option in the list.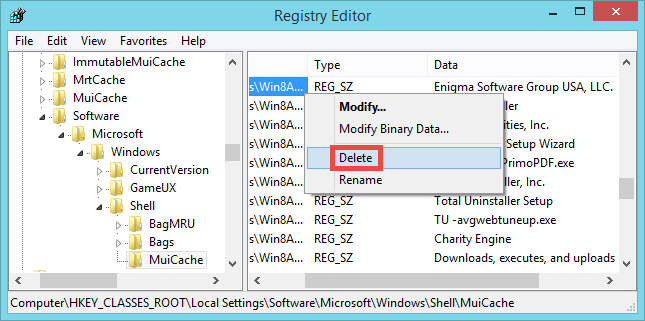 Notice: We only recommend advanced computer users to manually delete SpyHunter 4 leftovers in Windows Registry. Any improper modification may result in severe problem or even system crash. Always backup your registry before making any change there. Also, you can use a registry cleaner instead to save troubles.
(2) Junk files/folders in hard disk
Head to Start > Control Panel > Folder Options, and then select the View tab.
Check the "Show hidden files and folders" in Advanced settings and click OK.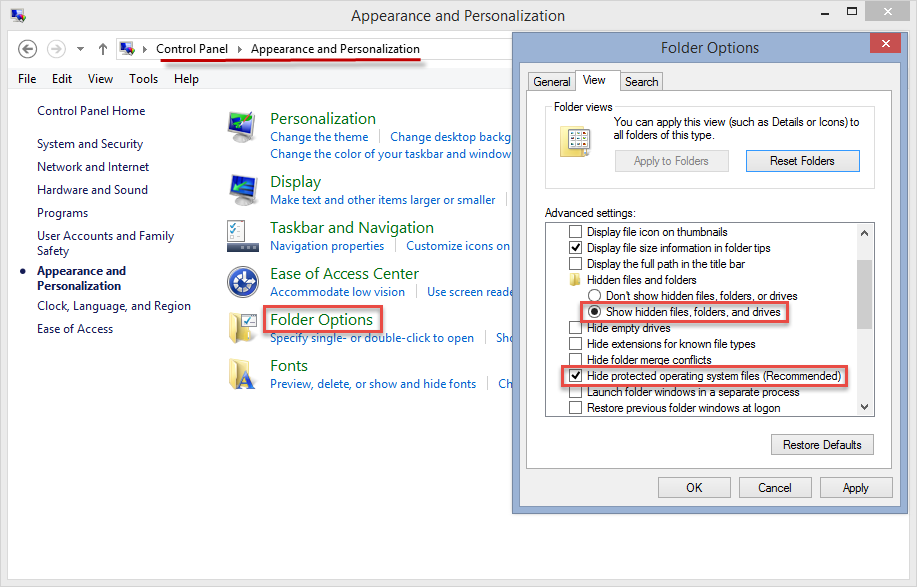 Click This PC on the desktop (or press Windows + E ) to open File Explorer.
Type SpyHunter 4 in the Search Bar and wait a few seconds.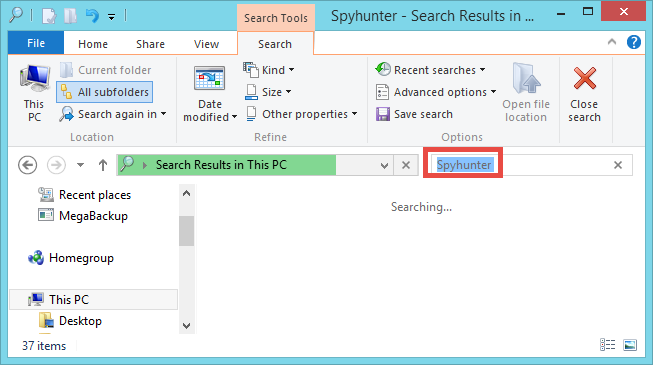 Identify SpyHunter 4 leftovers in the result and delete them permanently.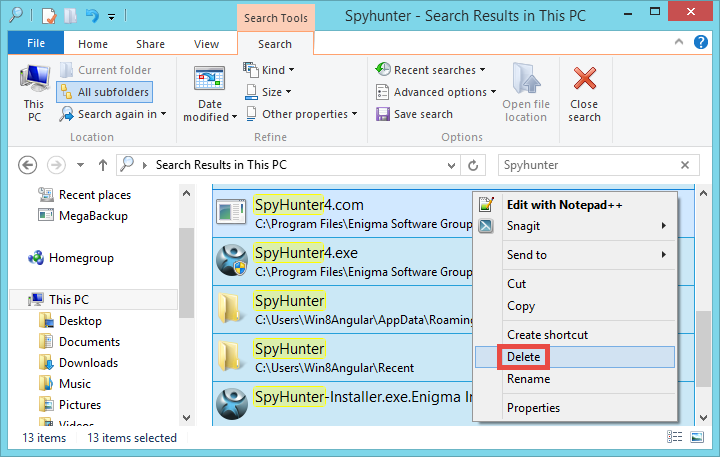 So that's the whole process you go through when trying to uninstall SpyHunter 4 manually. It is a little complicated and time-wasting indeed. Back to what we mentioned before. An automated uninstaller can really save a lot of troubles if you are encountering uninstall errors, or tackling incomplete uninstallation. Total Uninstaller comes in handy to both inexperienced and advanced users. Why not give it a try?

Is this article helpful for you? Share your thoughts on the comment section below.